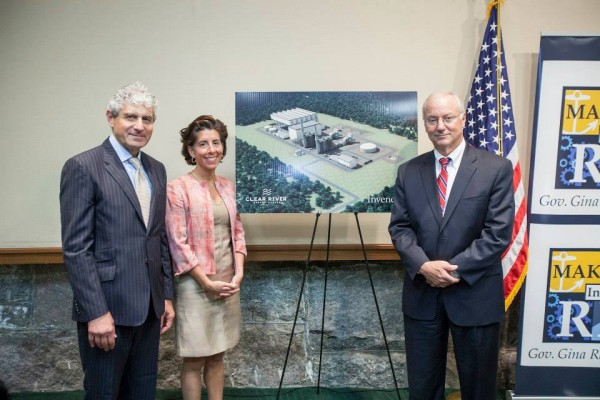 The Clear River Energy Center, a power plant that Invenergy wants to build in Burrillville, has been advertised as a "natural" gas powered facility that will cut climate change causing emissions, but Invenergy's plans call for "two one million gallon fuel oil storage tanks on site." The power plant planned for Burrillville is to be equipped with "new combustion turbines" that will be "dual fuel," meaning they will be able to burn gas or oil.
"In order to comply with the Pay-for-Performance initiative, many natural gas generators are installing dual fuel capability," said Invenergy, during their presentation to the Energy Facility Siting Board (EFSB). "Duel fuel facilities typically burn fuel oil during periods of natural gas scarcity, leading to overall more emissions intensive footprints than facilities that have secured firm natural gas as a cleaner solution, such as Clear River." (emphasis mine)
It should be noted that Invenergy is planning to buy "firm gas." They are building their plant on land adjacent to the Spectra gas pipeline, and they are actually going to enter into a contract guaranteeing them gas. Invenergy may be the first electricity power plant in the entire ISO-NE footprint to contract for firm gas. Invenergy hopes that this will ensure that their plant needs to burn oil very seldom. There is a plus and a minus to contracting for firm gas. The minus is that you pay a premium for the guarantee of firm delivery. The plus is that you are guaranteed delivery of much cheaper gas.
However, the term "natural gas scarcity" could refer to any time that natural gas has become more expensive than oil. Every economic textbook begins by explaining the scarcity/price relationship. So it follows that Invenergy intends the Clear River Energy Center to generate its power with oil in the event that gas prices become prohibitive. (As of publication Invenergy has not responded to questions about this.)
Fortunately, shale gas production and fracking will provide cheap, clean natural gas for the next hundred years right? (Putting aside, for the moment, the fact that methane is 80x more potent as a GHG than C02, so the methane emissions are a huge concern.)
Not quite, say an ever increasing number of experts.
As Bill Powers wrote on Forbes, "While many grandiose claims about the potential supply of shale gas, such as 'the US has a 100-year supply', have been made in recent years; almost none have ever been supported by any empirical evidence."
Powers, who does not consider himself an environmentalist, goes on to explain that his analysis of the gas industry does not support the "wildly optimistic" the US Energy Information Administration (EIA)'s enthusiasm about gas production.
John Manning, at the International Banker, agrees. After presenting a short history followed by a look at the economic impacts of the expensive technology and costly environmental effects of fracking, Manning notes the trend of "a downward revision of the estimated shale oil and gas reserves in the country."
Manning goes on to say, "A new report from the EIA has revealed that the Monterey shale basin in California, which was previously thought to hold 15.4 billion recoverable barrels of crude, making it the most promising untapped deposit, actually holds just 4% of this amount, or 600 million barrels. Exploitation of the Monterey shale was to create 2.6 million new jobs and add $24.6 billion in tax revenues by 2020. This is a heavy blow, and when it is added to the other pressures on the industry, it resonates all the more deeply as it raises questions about the deposits that have already been exploited, the reserves of which are being reported by the oil industry itself. The future of energy will be all about sustainability and within the fracking industry sustainability is in rather short supply." (emphasis mine)
Then  there's this graph, courtesy of the Post Carbon Institute, which says that the EIA has been seriously exaggerating gas production.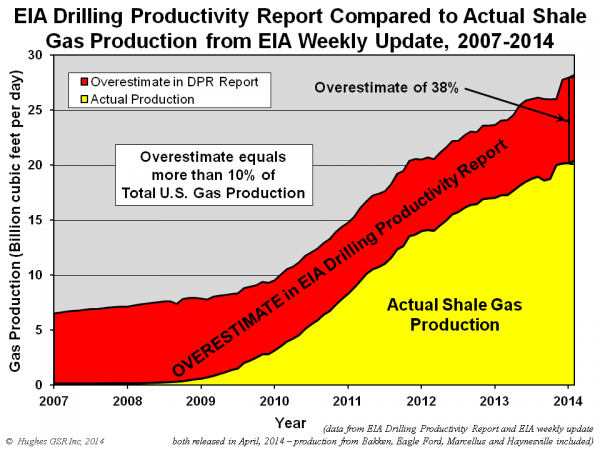 Finally, take a look at ShaleBubble.org which makes the progressive, environmentalist argument for the gas bubble. The idea that our coming reliance on natural gas is little more than an industry ruse to keep us all hooked on fossil fuels suddenly starts to seem like a very real possibility.
So let's go back to Invenergy's plans for Burrillville, which include "dual fuel" combustion turbines. All of Invenergy's pollution reduction promises are based on the burning of fracked methane (natural gas) which means (again, putting aside the fact that methane is 80x more potent as a GHG than C02, so the methane emissions are a huge concern) that when the plant burns oil, it will generate the very kind of climate changing pollution it has ostensibly been built to prevent.
And Invenergy is fast tracking their application with the EFSB. They want all project permits to be granted this year so they can begin construction by early 2017 and start producing energy by June 2019.
Why the rush?
The Conservation Law Foundation (CLF) quotes Invenergy as saying it wants to "bid into the ISO-NE's Forward Capacity Auction number 10 ("FCA 10") in February 2016, and if selected, commercial operation of the Facility will be required by June 1, 2019, with significant penalties due if this capacity obligation is not met."
"Invenergy," says the CLF, "for reasons that seemed appropriate to Invenergy" has put itself in the position of losing a lot of money if their new plant is not producing electricity by 2019. Later in their brief the CLF says, "Invenergy chose to participate in the upcoming auction before it had any of the permits required for its proposed plant, and, as a result, Invenergy is now trying to stampede the EFSB into processing its (Invenergy's) application prematurely, even while that application is facially incomplete in multiple respects."
Instead of producing a complete proposal, as required by law, the CLF contends that Invenergy submitted an incomplete application. The CLF does not speculate as to why Invenergy has put itself in such an unfavorable position.
But a clue might be found on the ShaleBubble.org website:
"An exhaustive, county-by-county analysis of the 12 major shale plays in the U.S. (accounting for 89% of current tight oil and 88% of current shale gas production) concludes that both oil and natural gas production will peak this decade and decline to a small fraction of current production by 2040."
In other words, by 2019, when the plant is operational, there's a good chance that the gas bubble will have burst or will be about to. Domestic oil and gas prices will soar, leaving only imported oil as an economically viable fuel source. And guess what?
The Burrillville power plant is ready to burn oil.
Now, because oil prices are certain to rise and because power plants burning oil are more heavily regulated and therefore more costly and limited in their operation, the business case for the Invenergy plant running as an oil plant is very different and much less plausible than running on gas. That said, the most compelling case for the new plant is based on cost savings and meeting energy needs. If gas skyrockets in price, so will the cost of energy. Since gas is a limited commodity whether their is a bubble or not, the price is sure to rise. The price trends on renewables, however, is downward.
Invenergy's proposed power plant will burn oil

,