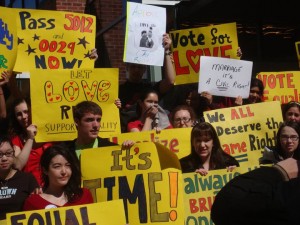 The word from RIPR's Ian Donnis is that Senate President Teresa Paiva-Weed expects a committee vote on same-sex marriage in the Senate Judiciary Committee. But it's never just that simple. The pressure on Senate Judiciary members will be enormous, but most of the members are reasonably solid in their positions on the issue.
Mr. Donnis suggests that it might be likely that an amendment will be attached to any marriage equality bill asking that it be brought before voters. This has been suggested by the Providence Phoenix's David Scharfenberg as a more palatable option for legislators than a pure floor vote; and much of Rhode Island's media has been providing cover for such a position since marriage referendums passed in Maryland and Maine and recent polls showed a majority of Rhode Islanders supporting marriage equality (though virtually all local polls have been shown to be unreliable in Election Day votes).
You can see why a voter referendum would be fine for legislators, it neatly sidesteps responsibility one way or the other; the choice will be in the voters' hands, legislators will merely be bringing the question to voters. But that neat sidestep is problematic; it elevates a change in state law to the position of a constitutional amendment or an issuing of a state bond, something which is both unnecessary and unheard of.
To understand that, we have to look at where marriage rests in law. It's not in the Rhode Island Constitution. Yes, despite our Constitution explicitly stating that an "Almighty God" is responsible for creation in the "freedom of religion" section (irony) and explicitly denying a "right to abortion", it lacks even the word "marriage" (though bills have attempted to change that in the past). Marriage is not a matter of importance for the Rhode Island Constitution.
Marriage lies in Title 15 of the Rhode Island General Laws. It is a pretty confusing set of laws, that appears (in my eyes) to be in need of serious revision. There are numerous sections that have been repealed (including all sections of Chapter 15-11 "Reciprocal Enforcement of Support"). Notably, Chapter 15-1 "Persons Eligible to Marry" only lists the persons men and women are forbidden to marry as kindred, such as your "daughter's son's wife" or your "wife's daughter's daughter" (if you're male). Both sections fail to explicitly prevent same-sex marriage.
In no part of Title 15 is same-sex marriage explicitly banned (both in the written law, and in former Attorney General Patrick Lynch's opinion from 2007). The list of ineligible people to marry for an individual is focused solely on kindred (though if you're Jewish, guess what? Exception!); or is concerned with preventing the "mentally incompetent" from marrying. There is the new civil unions law, but that's in Chapter 15-3.1 "Civil Unions", and though it references the parts of Chapter 15-1 that say that men and women can't marry their kindred of the opposite sex, it fails to mention those sections don't mention same-sex kindred. The complete lack of mention of same-sex marriage, even in a negative sense, is astounding; especially if the presumptive law of the land is that same-sex marriage is illegal.
Proponents of "traditional marriage" (which is anything but "traditional") might make the argument that someone like Catholic Bishop Thomas Tobin would be forced to preside over marriages of same sex couples, despite their opposition to such marriages, if same-sex marriage were to ever become legal. This is patently false, and is as truthful as asserting that current law forces Bishop Tobin to marry Muslim couples or Jewish couples, or even Episcopalian couples.
Who gets to marry you? Yes, Section 15-3-5 of the General Laws empowers "every ordained clergy or elder in good standing" to "join persons in marriage", but it also recognizes a host of clerks and justices (including "bankruptcy judges appointed pursuant to Article I of the United States Constitution"). Title 15 never mandates that any official must solemnize marriages. Furthermore, in the text of the law, at no point does it specify "join a man and a woman in marriage"; even the language here is neutral in regards to both the gender and sexual orientation of the people in the marriage ceremony.
Beneath all the pomp and circumstance, behind the dress, the priest, the church, the flowers, the cake, etc., etc., your marriage in the eyes of the State of Rhode Island comes down to a very simple ceremony: you, your future spouse, the official solemnizing your marriage, two witnesses; the endorsement of the marriage license by the official, and then the return of the marriage license to the appropriate clerk within 72 hours. That's the legal requirement that the state has created. It has virtually nothing to do with religious figures, though they are free to play a part as they will.
Does that lessen the importance of marriage as a cultural and religious institution? Not an ounce. That final kiss performed in most ceremonies is as powerful in the eyes of God and your family and your community as ever, regardless of what the state says. The separation of church and state was to prevent the state from meddling in and poisoning religious affairs, if you believe Roger Williams. That separation should hold true here; the state of Rhode Island's version of marriage not a sacred ritual, as is the Church's; for the state it is a profane (in the "not sacred" sense) one, intended to bestow upon you a reward for choosing to bind yourself to another person. Our governments have recognized that two people living and working together is a thing that should be supported and strengthened.
Who's to say that the merely because you're binding yourself to someone of the same sex, that it's not worth the same reward that opposite-sex couples get? Who's to say that that commitment shouldn't be recognized by the state? You might as well ban the LGBTQ community from getting fishing or driving licenses for all the legal sense this makes. But that would be absurd, only the extremely bigoted would vote to deny someone a state license based on sexual orientation. Only the most ridiculous legislator would vote to bring such legislation to the citizens of this state as a ballot question. And yet, this ridiculous situation is where some speculate we may find ourselves headed.
Such speculation and suggestion is bad, because it ignores the law in favor of political gamesmanship. And if we could ignore the law, this debate would not exist in the first place.
Is A Marriage Equality Referendum Legal, or Necessary?

,