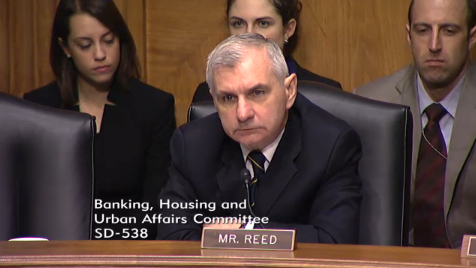 Even typically soft-spoken Senator Jack Reed is speaking out against Donald Trump.
"Donald Trump's world view starts with Donald Trump, ends with Donald Trump and there is nothing in between," Reed said. "He is combustible, impulsive, narcissistic and he could be a threat to our national security."
Rhode Island's senior senator, the highest ranking Democrat on the Senate Armed Services Committee, spoke during a conference call Thursday as part of the #AdmitHesUnfit campaign to convince America – and, specifically, Republicans – that Trump would be a dangerous and destructive president of the United States. The effort is being led by Third Way and the Truman National Security Project.
Specifically, Reed said Trump's statements about abandoning NATO allies, praising Vladimir Putin and torturing terrorism suspects would seriously damage the United State's position in global politics.
"When it comes to foreign policy he is ill-informed, inexperienced and completely unprepared in every dimension," Reed said.
He also called Trump "unwise and dangerous" for xenophobic and misguided rhetoric of Muslim faith. If you look at his domestic policies there is serious questions about his judgment, about his priorities, You can make an equal charge about his capabilities and his ability to handle pressing domestic issues."
Reed said, "Real leaders they bring people together, they just don't try to divide," Reed said. "They stand up to bigotry, they don't fan the flames. They protect religious liberties, they don't scapegoat religious minorities. Donald Trump is unfit to lead our nation."
Even Jack Reed is outspoken on Donald Trump

,