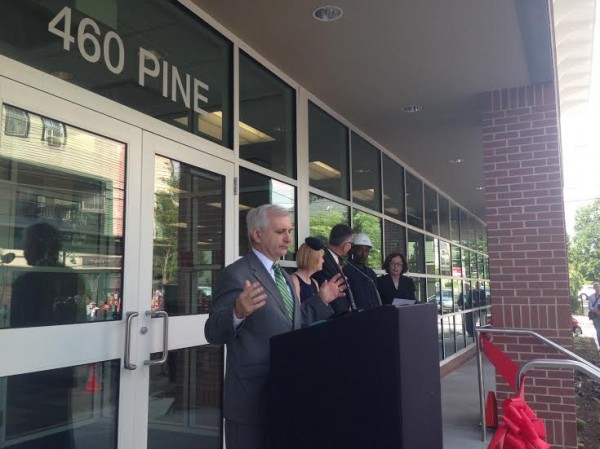 Congress is coming under increasing pressure to stop supplying cluster bombs to Saudi Arabia, but Rhode Island Senator Jack Reed doesn't seem to be feeling it. He said the weapons, which are made by Rhode Island-based Textron and banned by 119 nations but not the US and Saudi Arabia, "should still be provided under strict conditions," he told RI Future.
An amendment to the House military spending bill narrowly failed last week that would have stopped the sale of cluster bombs to Saudi Arabia. It was supported by congressmen David Cicilline and Jim Langevin, both of whom notably declined to comment on the vote. I asked Reed about the issue when I saw him on Friday.
"I think we should still be selling those weapon systems that comply with the law," said Reed, the senior Democrat on the Senate Armed Services and Intelligence committees.
Providence-based Textron is the last North American producer of cluster bombs, and the only source of cluster bombs for the US military. They've become a hot button issue as evidence mounts that Saudi Arabia has used cluster bombs it procured from the US in civilian-populated areas of Yemen.
Human Rights Watch and Amnesty International have each independently found evidence that Textron's cluster bombs have malfunctioned more than 1 percent of the time in Yemen and have been used in civilian-populated areas. Both allegations would be violations of US law concerning cluster bombs.
"That is something we have to look at very closely because the threshold is 1 percent or less," Reed said. "That's the way they are designed, that's the way they're tested and that's the way they are maintained. We have strict protocols in design and the systems need to perform to very high standards and that as a result those and only those systems are sold."
He added, "I think you do look at all the data that is being submitted. I think we are looking at it, and we are testing it."
Reed said the US military still has cluster bombs in its arsenal, as well. "We have them in our own inventory so we're very conscience of trying to make sure they are tested properly," he said.
He seemed confident in their efficacy. "The systems we provide, technically, are designed so that if a cluster does not detonate it will be deactivated. They are the only ones authorized to be sold."
Textron's political action committee has been a long-time financial supporter of Reed, according to campaign finance reports. In 2015, Textron donated $1,000 to Reed's campaign war chest, and in 2013 Textron made six donations for a total of $10,000 – of which $5,000 was given on June 30. In 2010, Reed got $1,000 from Textron  , as he did in 2006 as well. In 2007 Textron gave Reed $9,000.
Read RI Future's full coverage of Textron's cluster bombs here:
Jack Reed supports selling cluster bombs to Saudi Arabia

,