Last week's violence in Orlando at a gay nightclub was a major motivator for the recent protest action by PrYSM at Pride this year. The action, however, was part of a larger multi-evening dialogue about a schism within the LGBTQQIA+ community that has been present for some time which directly confronts and talks about the inter-connections between race, class, gender, sex, and orientation, a conversation that includes the use of words like "Marxism" and "Islamophobia" in ways that are light-years to the Left of what is being talked about by the mainstream press when reporting on Bernie Sanders. During my coverage of these events I heard some activists express disgust at how some of the Sanders supporters have carried on, particularly with regards to brow-beating black voters for not supporting the Senator from Vermont!
Steve Ahlquist's excellent recent report on the events at the State House last week, wherein a woman of color, Vanessa Flores-Maldonado, was booed for mentioning police brutality, was the first domino in the chain of events that led to this. That blatant act of racism and misogyny so disgusted local activists of color that they felt it was imperative to hold another event at AS-220 on Friday, June 17 that would allow them to process through and mourn together in a safe place a man of color unleashing such violence against other people of color.
The evening began with a very emotional event that was so private I did not record audio or images. Several queer Muslims held a prayer service, the jumu'ah, attended by a variety of community members and allies, and led by a local Muslim professor who was sure to qualify that she was not an imam or Islamic scholar, just a prayerful believer who believed in God. The prayer leader had a queer niece who introduced her aunt and began to weep in the middle of her speech, saying at one point this was so important to her because "we as Muslims don't talk about these things". The congregation shared as one prayer mat a long and wide rainbow flag unfurled from the front of the main stage of AS-220. It was a breathtaking sight in its simplicity.
Following the prayer, the activists had a series of presentations articulating their feelings and emotions related to the events in Orlando. These included silly moments of singing classic gay karaoke tunes as well as moments of genuine sadness, with performers continuing to break down throughout. One instance was a queer male talking longingly of Omar Mateen, the Pulse shooter, asking in a painful tone not only why he had done these things but how he could have been so hurt by America's white supremacist and homophobic culture to consider such violence legitimate. Another performer described his views as Marxist and queer while discussing how he is able to "pass" as white despite being a light-skinned Syrian.
The day before, Sam Husseini, an independent journalist who has given special notice to Arab news topic during his career, wrote this in a piece titled Noor Zahi Salman: Everything You're Hearing About Me Is a Lie:
Some friends of Noor Zahi Salman are apparently speculating that what actually happened was that Omar Mateen was about to be outed as gay — and went nuts. This could have broader implications since "Israel surveils and blackmails gay Palestinians to make them informants." That clearly is speculative. But far more responsible than speculation that is streaming forth from your TV.
The point that many of these queer and allied Muslims shared, regardless of their personal views regarding the Pillars of Islam, was that the Pulse shooter was one of them for multiple reasons and that his actions were an explosion of nihilistic rage not at homosexuality being condoned by a decadent libertine Western society as much as this self-proclaimed enlightened Western civilization being the central organ of racism, sexism, homophobia, transphobia, and imperialism in the world today. They pulled no punches, including a moment when Donald Trump and Hillary Clinton were displayed in large glossy photos onstage as part of a musical number that repudiated both Democratic and Republican racism. One of these performances included a line that summed up these sentiments, "Not gay as in happy but queer as in fuck you!"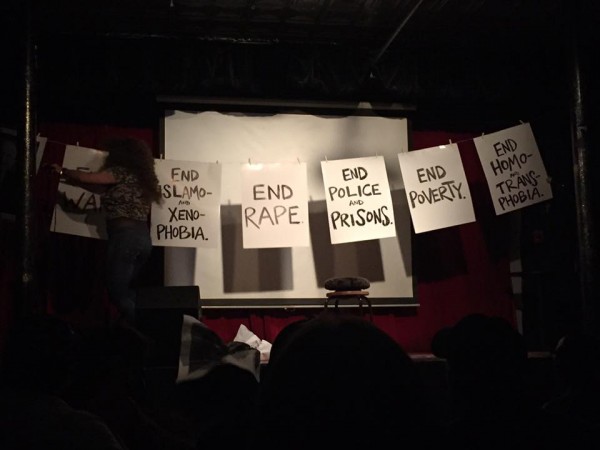 The next day was Pride. Throughout the day, white stage performers were consistently, when referring to Orlando, using derogatory language about Mateen that 'othered' him while failing to articulate any recognition of him as potentially bisexual or as a member of a religious minority currently experiencing a tremendous level of state-sponsored violence at home and abroad. There was zero recognition of how our war on Afghanistan would have radicalized him. Instead, he was described as a "thug" or "hoodlum" by the MCs, which included one white drag queen wearing a Clinton campaign button. Backstage, one could spy David Cicilline and Jorge Elorza yucking it up and totally at home in a corporate Pride event.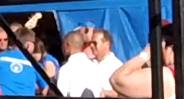 After the PrYSM action, they decamped from the Pride site and went to India Point Park to hold an alternative evening celebration. While Gina Raimondo and her husband, two people who have made a living off corporate welfare while demonizing pensioners, were greeted with adulation by the crowds at the Pride parade, these people of color were celebrating genuine diversity and actual progressive values.
Statistically speaking, we know that people of color and particularly African Americans are the most Left-leaning voting bloc in both the Democratic Party and the American population. Surveys have shown they are in favor for abortion and LGBTQQI rights, gun control, Affirmative Action, universal healthcare, expansion of Social Security, free college tuition, and even wealth redistribution via a progressive income tax and reparations for slavery or other instances of historic systemic white supremacy.
In other words, these are the people who would be by default akin to Scandinavian social democrats. The reason Bernie Sanders failed to make significant inroads this year with the black vote was because he ran a typical white northern liberal presidential campaign, centering his energies on white middle class population centers known for progressive attitudes, such as college campuses and middle class communities, while failing to reach into the black community population centers in a meaningful fashion, though the younger generation, many of whom are first-generation college students, in certain instances did embrace his candidacy. (How Tad Devine, a native of South Providence, could not figure that one out is truly bizarre.) Indeed, in a recent report on The Real News Network, it was said:
[T]he below of the Democratic party is black folks. We're about 25 percent of that party. And if our presence was going to transform the party, we'd be seeing a very different kind of party politically. Black folks are the most left-leaning constituency in the United States, that's been shown generation after generation.
Those facts in the macro sense defined the generational and ethnic gap between the PrYSM and Pride celebrants in the micro sense.
These politically-engaged young people of color did not feel like Bernie Sanders campaigned to them this year and feel like Jorge Elorza is a phony, playing heartstrings with his story of humble upbringing on the West End while failing to vocalize any critique of the financial institutions that are now holding Providence hostage at a time when Wall Street has lower popularity than the Johnston landfill. They understand that they could be the base of a progressive political leader but instead they are ignored by politicians while real estate interests and Brown University gentrify historic black neighborhoods on the East Side, in the West End and South Providence. They know that the Democratic Party is a force trying to destroy their community so to break up their progressive voting bloc's power in city and state government. These are the points of conversation I had with various activists over the last few days leading up to the Pride action and so define the coordinates of where any actual post-Sanders movement is going.
White progressives should take note.
The Pulse shooting and Pride through a different PrYSM

,