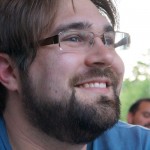 Jason Becker worked as a consultant, with Brown professor Kenneth Wong and Mary-Stuart Kilner, to develop the state education funding formula that was presented to and then approved by the General Assembly in 2010 and is being contested by Pawtucket and Woonsocket at the state Supreme Court today.
In a deep-dive conversation into how the funding formula functions, Becker said he doesn't think an adequate education for all public school students is a constitutional right in Rhode Island. Adequate funding is the basis of Woonsocket and Pawtucket's lawsuit.
"That's sort of the right philosophical frame and it's sometimes the direct language used," he said, "but that's just not the language in the Rhode Island Constitution . There's actually no right to an adequate education or an effective education. The only lines we have about education in the state Constitution is that the General Assembly should promote education."
He also said "that local support for the system has not been there" in Woonsocket and Pawtucket and both districts could sue their city councils for more funding.
But he also suggested some improvements to the current system of state funding for local school districts. He said RIDE pays 40 percent of teacher pension costs for every school district regardless of need.
"And obviously," Becker said, "communities don't have equal ability to pay. And I don't that's very fair. And in fact I'm pretty sure Woonsocket and Pawtucket would be making more money through than almost any change that has been suggested in the lawsuit other than massively increasing the amount of school funding that exists at the state level."
He also cited the state facilities subsidy as ripe for review. Currently, local school districts can receive upwards of 40 percent of state funding for local projects. But as a practical matter is mostly used by the towns that can afford to pay 60 percent of the costs of improvements.
"If we want to wonder why the buildings in Pawtucket and Woonsocket and Providence are in terrible condition  even though the state will pick up roughly 80 percent of the tab for any construction work that they do it's because a lot of that money gets eaten up by East Greenwich, which can get 40 percent and can easily pay that other 60 percent," he said.
We also spoke about why English language learners weren't factored into the 2010 funding formula and he tries to explain the "quadratic mean" and how it helped Newport at the expense of Woonsocket and Pawtucket (my words not his!).
Listen to our entire conversation here: