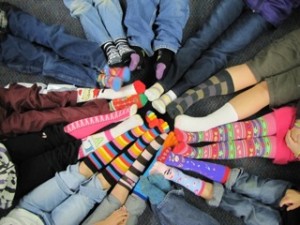 In a fitting follow up to Bob Plain's five part series  "Homeless Like Me,"  Drinking Liberally Providence will showcase the important work of the RI Coalition for the Homeless tomorrow night, Wednesday November 28 from 7pm – 9pm at Wild Colonial Tavern.  Participants are encouraged to bring new pairs or packages of socks to donate to the Coalition to help their clients as we head into the harsh winter months.
2012 was a powerful and important year for the RI Coalition for the Homeless because of the landmark passage of the Homeless Bill of Rights, the first bill in the nation to prohibit discrimination of individuals and families experiencing homelessness.
Come learn more about the Coalition's tireless work to end homelessness in Rhode Island at our next DL and help out the homeless by donating pairs of socks or making cash or check donations to help those most in need as we head into the winter months. Donations may also be made online at www.rihomeless.org.
What: Sock It to Homelessness with DL PVD
When: November 28 7-9 pm
Where: Wild Colonial, 250 South Water St, PVD
Why: To celebrate the RI Homeless Bill of Rights & to help constituents in desperate need of socks to keep warm this winter