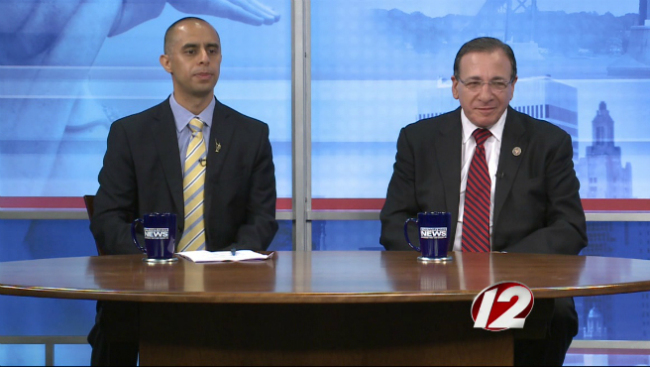 With Providence's mayoral election looming, Jorge Elorza has positioned himself as the 'progressive' candidate in the race, with many local progressives jumping on the Elorza bandwagon. There is one small problem. Elorza isn't progressive by any feasible definition of the word.
As I will detail in-depth below, Elorza falls on the conservative or neoliberal side of almost every single issue, from raising the minimum wage to charter schools to racial profiling to progressive taxation. There is a candidate in the mayoral race with a solid progressive record and concrete progressive social program. However, once we pull the rhetorical wool from over our eyes and consider actual policy, it becomes clear that the candidate is not Jorge Elorza.
If the definition of insanity is doing the same thing over and over and expecting different results, a progressive vote for Jorge Elorza would be literally insane.
Elorza represents a disastrous nationwide habit of 21st century American progressives: supporting charlatan politicians who are progressive in rhetoric but utterly neoliberal in policy. While progressives are right to feel despair at the rightward drift of our country and our ever-widening inequality, they must accept partial responsibility. Swindled with sweet songs of vague progressive rhetoric, progressives have time and time again elected many of the very politicians who go on to desecrate progressive values. A sober look into Jorge Elorza's actual politics makes clear that he is attempting to do the same, that Elorza is in no substantive way progressive, and that Providence progressives are on the cusp of repeating the same error we've repeatedly committed and come to regret in past election cycles.
Well-intentioned progressives have elected a long list of rhetorically progressive candidates who have gone on to govern as conservatives or neoliberals. There was Bill Clinton—whose legacy is still shrouded in a mythical mist of populism— destroying welfare programs and attacking workers through passage of NAFTA. There was Barack Obama—who rallied progressive enthusiasm unlike any other candidate in recent American history—deporting more immigrants than any President in American history, abandoning campaign promises of labor law reform, and drone-striking foreign civilians at appalling rates. And locally, how can we forget Angel Taveras, who galvanized progressives and working-class Latinos with his 'Head Start to Harvard' personal narrative. Of course, Taveras proceeded to send firing notices to all Providence teachers and oppose the hotel worker minimum wage ordinance, just to name a couple of progressives' disappointments.
Many local progressives feel some sense of betrayal towards politicians such as Obama and Taveras; their policies have rarely aligned with their progressive promise. Obama and Taveras represent a powerful new figure in American politics: the politician whose personal narrative and identity are used as a progressive mask over a neoliberal social program. Despite Obama's overwhelmingly moderate voting record prior to 2008, progressives nationwide clung to the belief that he would govern as a progressive due to his personal narrative and identity. Lack of a clear progressive social program didn't matter; his background combined with teasingly vague progressive rhetoric was enough to convince progressives. Angel Taveras replicated the mold, bludgeoning voters over the head with his 'Head-Start-to-Harvard'-from-a-Dominican-Providence-family personal narrative enough times that no one seemed to care that he didn't actually propose a substantive progressive social program. As the renowned political scientist Adolph Reed Jr. described, both men are "the triumph of image and identity over content; indeed…the triumph of identity as content."
Jorge Elorza has attempted to cut this exact same political figure. Without articulating an actual progressive social vision, Elorza is attempting to garner the progressive vote through rapid-fire repetition of his 'Cranston Street to Wall Street' personal narrative—a slightly modified version of the Taveras story. Elorza rarely delves into specifics when speaking to progressive or working-class voters, but specifics of his second-shift-working mother and his voyage from CCRI to Harvard Law are provided almost incessantly. As for vague rhetoric? Elorza's campaign slogan of "One Providence" attempts to represent everyone by taking an actual stance on nothing in specific (its worth noting that Obama's version of vague rhetoric, "Change," was at least vaguely progressive; Elorza's is so vague it doesn't even go that far). Elorza also tempts progressives to draw their own dreamy conclusions on how he will govern as mayor via anecdotes of subpoenaing banks as a housing court judge, reminiscent of Obama's winking references to his time spent as a 'community organizer'. Just as progressives excitedly cited Obama's community organizing experience as evidence that he was a closet socialist, I've heard more than one Providence progressive cite Elorza's bank anecdote as indication of his progressive politics. Elorza has mastered the gameplan; his claim for the progressive vote substitutes identity and narrative for actual progressive policy.
Yet unlike Obama and Taveras, it's hard to find a redeeming quality in Elorza. Obama has mixed in some genuinely progressive stances and Taveras may very well be the only thing that can save Rhode Island from the atrocious Gina Raimondo. Elorza, on the other hand, uses personal narrative to appeal to the progressive and working-class vote because behind the rhetorical fog lies an entire set of policies no progressive could possibly get behind. For the skeptical, lets go through the list:
Raising the minimum wage for workers? Elorza has not once but twice come out publicly against raising the minimum wage for Providence workers.  First, Elorza declared his opposition to the Hotel Worker Minimum Wage Ordinance, offering the Reaganesque explanation that raising wages would drive business away. Then, perhaps in courtship of business-class support, Elorza doubled down against raising the minimum wage, telling the Providence Chamber of Commerce "I am not in favor of Providence imposing an across-the-board wage hike at the city level." Amidst skyrocketing inequality, what has become an obvious need for American workers and a milquetoast issue for Democrats nationwide is too far left for Elorza. Progressive?
Fighting racial profiling? Even amidst the horrific murder of Mike Brown in Ferguson, Elorza comes down on the conservative side of the struggle. Against what should be an obvious progressive stance, Elorza came out against the Providence act to combat racial profiling in a candidate interview with the RI Coalition to Defend Human and Civil Rights. Elorza ultimately sided with conservative opinion instead of taking a stand against racist immigrant ICE holds and police brutality. Elorza, instead offered conservative tropes, proposing 'changing the culture and instituting more community policing'. Progressive?
Standing up against the attack on our public school system? Most progressives oppose the expansion of charter schools in support of a democratically controlled public school system. Not only did Elorza publicly call for the expansion of charter schools in Providence, Elorza sits on the board of Achievement First, a controversial charter school in Providence. With teachers unions and public education advocates fighting to stem the tide of the business-backed charter movement, Elorza's again taken the side of business in the education struggle. Progressive?
Advocating a progressive tax system? After (opportunistically?) telling the Rhode Island Progressive Democrats of America he was "open to exploring the idea of a municipal income tax" and securing their endorsement, Elorza quickly retreated firmly back onto conservative ground. Quite typically of pseudo-progressives, Elorza stated in a television debate that he was interested in municipal income taxes, just not in Providence  (incidentally, the city he is proposing to govern). Out of one side of the mouth comes soft, reassuring rhetoric that he is progressive at heart. Out of the other side come firm policy statements for the wealthy—'No, I am not in favor of an actual municipal income tax in Providence'. Progressive?
Using government power to directly create good jobs? Since FDR helped create hundreds of thousands of good American jobs through the New Deal, Keynesian economics and direct worker stimulus have been staple rallying cries for progressives. But absolutely nowhere in any of Elorza's seven-point 'Jobs Plan' does he propose any form of direct worker stimulus. Instead, Elorza treats us to trickle-down economic proposals. His plan to create '1,500 jobs' is a bizarre supply-side plan to better integrate Providence in the global trade market, and he worryingly proposes "working creatively to forge new public-private partnerships" (read: privatization). Moreover, Elorza nailed down his conservative economic credentials when he criticized his opponent's proposal for direct government job creation in Providence. In response to Michael Solomon's plan to (in a refreshingly New Deal-esque progressive fashion) create 2,000 Providence jobs through rebuilding our public schools, the Elorza campaign stated: "[Elorza] has a plan to create 1,500 jobs by doubling our export economy, and unlike Michael Solomon's plan, Jorge's doesn't require spending a quarter-billion in taxpayer dollars" [emphasis added]. Fear mongering about taxes and big government to fight government job creation to rebuild public schools sounds like FOX News. Advocating ways to better attract business and investors while opposing direct job creation and worker stimulus from government sounds like Ronald Reagan or Margaret Thatcher. Progressive?
One could go on and on, but this slew of conservative policies alone should be more than enough for any sober progressive. There is simply no way possible to reconcile the above policy program with progressive or egalitarian politics. In a vacuum, no progressive would ever endorse a candidate against raising the minimum wage, for expanding charter schools, opposed to anti-racial profiling legislation, against progressive taxation, and in favor of trickle-down economics over direct government stimulus to workers. They would more likely refer the candidate to the Tea Party. With Elorza, we get rhetoric for the 99%, and policies for the 1%.
Progressives who've taken the Elorza bait are undoubtedly well-intentioned. The desire to diversify our elected offices is understandable, and the rags-to-riches narrative tugs on a noble progressive emotional desire to see such upward mobility for all.  But failing to see past the thin façade would be more forgivable if progressives hadn't been fooled so recently, so numerously, and so locally in the exact same fashion. Providence progressives who can still feel the sting of disappointment from Angel Taveras are somehow following the exact same course with a nearly identical candidate. These progressives are either suffering from a bad case of historical amnesia or some sort of political Stockholm Syndrome.
The obvious response from progressive Elorza supporters will be the lack of a superior alternative. Even if this were true, celebrating neoliberal politicians as progressive champions is a pernicious practice that puts off the real work of building a genuine progressive movement. Nevertheless, there is a superior alternative in the race, Michael Solomon. I'm not engaging in opportunistic exaggeration or self-delusion. Solomon is not Martin Luther King Jr., Che Guevara, or even Bill de Blasio. Solomon's election alone will not lead us to the promised land. But sober analysis reveals that Solomon does have a host of genuinely progressive concrete policies, unlike Elorza. Solomon proposed directly creating 2,000 jobs by rebuilding our Providence public schools, remarkably reminiscent of FDR's New Deal and a striking break from the supply-side economics of most modern Democrats. Solomon publicly opposed any expansion of charter schools in Providence in the recent WPRI debate, taking a firm progressive stand where he had previously gone along with Angel's Mayoral Academies. Solomon supported the Providence racial profiling ordinance—in fact, he is lead sponsor of the ordinance. I personally witnessed Solomon struggle vigorously for passage of the $15 hotel worker minimum wage, an issue Elorza refused to support even rhetorically. Solomon has an actual political record of taking on large corporation to protect workers and the environment, championing nationally groundbreaking legislation in introducing the Worker Retention Ordinance (which protects hotel workers' jobs upon change of ownership and was viciously opposed by local hospitality corporations) and confronting Big Oil itself in voting to divest the city's pension holdings from fossil fuel companies. Solomon is not a perfect progressive. But he is not part of crusading neoliberal movement that is currently driving our country into unseen depths of inequality. Rather, Solomon represents some of the genuinely admirable strands of the Democratic Party tradition, far from the Wall Street neoliberals currently dominating the Party and so lamented by progressives. He is a more traditional Democrat who exhibits at least some sense of obligation to working families and some willingness to regulate the excesses of free market capitalism.
It will undoubtedly be said that my support for Michael Solomon is professionally motivated—the organization for which I work, Unite Here Local 217, is endorsing Solomon. It is true that supporting Providence's hotel workers is something about which I am deeply passionate, and personally witnessing Solomon risk alienating the entire business community as he pushed and maneuvered vigorously behind the scenes to raise hotel workers wages was moving. Yet I do not write this piece as a hotel worker organizer. I write this piece as a dedicated progressive, as someone wholly committed to advancing civil rights, immigrant rights, worker rights, and general equality everywhere. As progressives, we must stem the tide of the neoliberal onslaught, stem the tide of ballooning inequality. We must learn from recent history and break from the insanity; we cannot do the same thing over and over and expect different results. By that definition, a progressive vote for Jorge Elorza on September 9th would be literally insane. Michael Solomon may not be the candidate of progressives' dreams, but he will move us in the right direction. Stem the tide. Break from the insanity. Vote sanely September 9th.