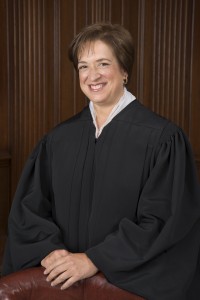 United States Supreme Court Justice Elena Kagan wrapped up her official Rhode Island appearances this morning at Trinity Rep in a 45 minute conversation with historian and writer Ted Widmer. Rhode Island's own Governor Lincoln Chafee hosted the event, and in his introduction reminded the audience that Rhode Island takes "great pride in our history of religious freedom." We were, he reminded us, a "trailblazer in civil rights," especially "freedom of religion and separation of church and state."
Historian Ted Widmer said that Rhode Island has a long "history of freethinking" beginning with our state's founder, Roger Williams. "The worst mistake the Puritans ever made," Widmer quipped, "was banishing Roger Williams to a more beautiful region." Here Williams founded Rhode Island "as a kind of anti-Massachusetts where religious tolerance could be practiced. We've always been natural dissenters."
Justice Kagan was then introduced to a standing ovation. She began by bringing the crowd up to date on her recent visit to Touro Synagog in Newport on the 250th anniversary of Washington's Letter upholding the then fledgling nation's commitment to tolerance and acceptance where Kagan was a featured guest. Though Washington talked of values that go deeper than mere tolerance, Kagan pointed out, "Tolerance was a lot better than the Jews were doing elsewhere in the world."
Widmer asked if Kagan's Jewish religious tradition had any affect on her legal thinking, to which Kagan replied, "No, I can't say that it does." She did wonder about the lack of geographic diversity on the Supreme Court, pointing out that the "court has an East Coast bias, which is a bit unfortunate."
Kagan's been reading Devil in the Grove, a biography of former Supreme Court Justice Thurgood Marshall which focuses on his early days as a lawyer combating Jim Crow in the 1930's south. She clerked for Justice Marshall as a law student, saying that he was a great storyteller and the "greatest lawyer of the 20th Century, before he became a justice."
Kagan sits in the Brandeis Chair, named for Justice Louis Brandeis, a terrific legal mind and the first Jewish Supreme Court Justice.  (Kagan is the eighth.) Unlike Kagan, Brandeis was the victim of terrible anti-Semitism during his tenure, even suffering a fellow Justice turning his chair away from him whenever he spoke.
The conversation then turned to the Fourth Amendment, an especially salient issue in these days of NSA spying and the prosecution of whistleblowers. New technologies bring new difficulties and challenges to rights of privacy and government surveillance. Kagan spoke of Justice Brandeis's dissent in 1928's Olmstead v. United States. In his dissent Brandeis anticipated new difficulties in protecting individual rights in the light of new technologies, and Kagan thought his now famous dissent reads "almost as if he's doing a kind of science fiction."
The Supreme Court Justices  "are not the most technologically sophisticated people," said Kagan, noting that "email is old fashioned" and  "the court hasn't even gotten to email." Thoughts and communication are still written down on paper and hand deliver by messengers. In one of Kagan's earliest cases, the subject of violent video games was under discussion and Kagan described a scene of the nine older justices trying to figure out how to play the games in question.
When asked is she goes online herself, Kagan said that she does read some blogs, and that the Court relies on the younger generation of clerks to keep them informed on new technologies.
Kagan explained some of the process of Supreme Court deliberations. The "black box" is the conference room consisting of one table, nine chairs, and a never lit fireplace on either side. The Chief Justice begins the conversation and each Justice speaks, in order of seniority. Kagan speaks last. No Justice can speak twice before all Justices have spoken. After this formality, "conversation breaks out" and the Justices "try for consensus."
"When you read opinions and dissents you think [the Justices] must hate each other," Kagan said, but, "This court is actually friendly. We have a lot of respect for each other" and "they're really trying to get it right."
Asked about her relationship with the most conservative member of the court, Kagan confirmed, "I have gone hunting with Justice Saclia." She explained that her Upper West Side New York upbringing wasn't exactly conducive to learning about hunting, but when she was making her rounds to members of Congress during her confirmation process, in 82 meetings the one question she was asked about most was gun rights and Second Amendment issues.
"How can I know that you'll understand the importance of gun culture in my state?" one senator asked Kagan, to which she replied "I'd be happy to go hunting with you anytime." The unnamed senator demurred, but Kagan promised that if confirmed she would ask Scalia to take her hunting. Scalia thought the idea humorous and was happy to have her along.
Both Scalia and Kagan, noted Widmer, are noted for the quality of their dissents. They both tend to use common language and colloquialisms. Kagan defended this style by noting that she thinks it important that her dissents read as clear and understandable, not "arcane and detached."
"One way to communicate effectively is to speak in a language people understand… speak plainly," and "not in Latin which even lawyers don't always understand." Kagan uses analogies, examples and common sense reasons to support her views.
Dissents are interesting, Kagan noted, because every once in a while a dissent becomes the basis for the way the law will become interpreted in the future. Our present understanding of the First Amendment underwent this process, as did the aforementioned Brandeis dissent in Olmstead.
This brought the conversation naturally to the influence of the wider culture on the court. The Justices, being somewhat modern people in the modern age, are surely aware of the rising tide of acceptance for LGBTQ people. Marriage equality is one issue that has, in one way or another, come to the attention of the Court.  Widmer characterized this rapid shift in law as being from the bottom up, through activism and the will of the people, rather than top down, through governmental action.
"We are of this world, live in this society," said Kagan, "There is no cutting off the court from the rest of the world, nor should there be," but, Kagan continued, "in the resolution of legal questions there is no direct line from the political or cultural sphere and [Supreme Court] decisions."
Before the forty-five minutes were up Kagan answered some questions about the Supreme Court and gender. There have only been four women on the Supreme Court, and they are divided by a generation. Justices O'Connor and Ginsberg came from a time when women lawyers had very few opportunities and had to work hard to make their own careers in a very unaccepting atmosphere. "I never had to suffer from overt sexism," said Kagan, adding that she and Justice Sotomayor both owe a great deal to the first generation of woman justices.
Kagan left the Trinity stage to another standing ovation.
Justice Kagan talks SCOTUS at Trinity Rep

,