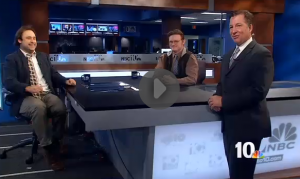 The Procaccianti Group, the multinational real estate holdings corporation that owns the Hilton and Renaissance hotels in Providence where workers have been protesting and organizing a labor union to demand more humane working conditions, should treat their employees better, agreed Justin Katz and I on last  week's NBC 10 Wingmen.
"In a given circumstance, perhaps they should" form a union, Katz said and said the way they have been treated is "garbage from [employers]."
Katz deserves a lot of credit for this admission. Richard MacAdams, one of the board members for the vehemently anti-union political advocacy group he works for, is also on the chief legal counsel for the Procaccianti Group. I respect Katz for speaking his truth on this issue for the same reasons I respect the fired Hilton Providence workers for speaking theirs.
But, as per every episode, we also had some disagreement. Katz would prefer the invisible hand of the free market create better working conditions for the Hilton employees.
"What I don't like the union union debate the way it sets it up unions have power to counteract business power," he said. "If a company isn't valuing its workers then that's a problem with the company and we have to create an economic environment in which they suffer for that."
In theory, everyone agrees I suppose. But from a practical point of view, unfettered capitalism simply doesn't have an effective way to compel a multinational holdings company to pay poor people a living wage without workers organizing and making a stink about it.