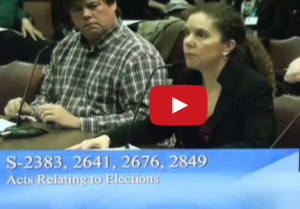 Part of the problem seems to be that many of the legislators in the Rhode Island General assembly don't really have any idea of what it is like to be poor, homeless, disabled or otherwise marginalized by society. As a result, they jump to easy answers or rely on "anecdotal evidence" or gut feelings when deciding on policy. Consulting with experts and authorities about how changes in the law might affect certain parts of our population takes time and effort, two things our legislators don't like to expend.
Case in point:
Some of the ID's being considered for people who need to prove their identity in order to vote do not actually exist, according to Kate Bowden of the RI Disability Law Center. "For example, we represent many people who live in public housing, I'm not aware of a public housing corporation that issues IDs for the people who live there, and public housing ID is one of the IDs on the list."
Telling people they can vote using a form of ID that doesn't exist smacks of a Marie Antoinette "Let them eat cake" level of classism and disregard.