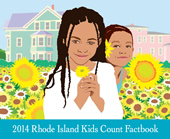 Most of Rhode Island's poverty is concentrated in four cities: Providence, Pawtucket, Central Falls and Woonsocket, according to Kids Count's annual fact book. So much so that the annual Factbook on children, the economy and health always breaks down its report to compare the "four core cities"* with the rest of the state for emphasis.
Here are some examples:
For more great info from Kids Count click here. But suffice to say, more tax cuts aren't going to do much at all (and virtually nothing in the short term) to fix the poverty problem in Providence, Pawtucket, Woonsocket and Central Falls.
*Governor Chafee calls these "distressed communities" but you may know them better as places that used to have manufacturing economies or places hit hardest by Carcieri cuts to cities and towns and sometimes they are referred to as 'communities in need of a public sector haircut, if not a beheading.'