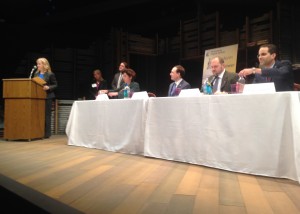 With little substantive differences in their talking points, the four Democrats running for governor each tried to impress upon an audience of mostly liberal activists that they were the best person for the job at the Economic Progress Institute's candidate forum Monday night.
Providence Mayor Angel Taveras said he wants Rhode Island to have the best schools in the nation and make the Ocean State and "example for opportunity." General Treasurer Gina Raimondo called income inequality "biggest problem facing our state" and said the social safety net is "an investment in our future" rather than an act of charity. Todd Giroux said he'd create a $1 billion commerce fund and wants to make workers' comp available to day laborers.
But arguably the best line of the evening belonged to Clay Pell, who brought down the house when he said: "I'm a Democrat. I believe people who earn more should pay more."
Pell was also the only one to pledge to fully fund the Open Doors plan to end homelessness in Rhode Island. He may have laid out the most progressive messaging of the evening, but also drew sharp attention to his privileged upbringing when he said, "for too long in Rhode Island it's been who you know not what you know." Minutes earlier in his opening remarks, he name dropped his grandfather and namesake's signature college aid grant program.
Taveras leaned heavily on his biography, at least twice recalling his formative years living in affordable housing and being a "Headstart baby." Substantively, he said Rhode Island could boast the best education system in the country, and that he wants to make Rhode Island a national "example for opportunity."
If any news was made at the Economic Progress Institute's governor's candidate forum, it was that Raimondo said she would dismantle the parts of Rhode Island's health care exchange that link people with other social services to help offset the cost when federal funding runs out. She also said "income inequality is the single biggest problem facing our state and in fact our country."  Here's how she said she would address income inequality:
Todd Giroux plays the part of the everyman political outsider. He was the only candidate on stage who didn't got to Harvard and who has actually worked in the Rhode Island economy – they both sounds like nice attributes in a candidate but neither will likely garner him any political support.