Mike Brito was brainstorming with Joyce Penfield one day about how he could help Penfield's organization, The Blessing Way, when he realized he could only offer what he knew how to do.
"All I know is how to put stone in the ground and I guess that was enough," said Brito Saturday at the graduation of students from Blessing Way's second landscaping course.
The course is meant to give men and women who've spent time in prison or are recovering substance abusers practical skills to help them find work.
For many who've been incarcerated, stigma of a prison sentence is hard to overcome. Employers are often reluctant to hire men and women with criminal records, setting up a potential return to prison when work proves elusive and a return to criminal behavior inevitable. Indeed, in 2009, 3,387 offenders left prison in Rhode Island, but within three years nearly half (48 percent) were back in prison with a new sentence.
Helping those newly released from prison to find their footing back in the world has been the mission of the nonprofit Blessing Way since it was established back in 2004. At the time, Joyce Penfield, an Episcopal priest, was working as a chaplain at the R.I. Dept. of Correction. The Blessing Way was her response to that revolving prison door as well as death by overdose among the formerly imprisoned.
The wrap-around services offered by Blessing Way include a place to live, counseling, life-skills training, non-denominational spiritual guidance and job assistance. It's that last piece that's gotten more concrete thanks to the landscaping course.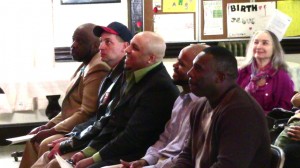 Interested participants need to apply and be accepted. They meet for 20 hours over the course of several weeks and must pass quizzes and a final test in order to graduate. They also are expected to work on a project designed to give them practical experience and they get an opportunity to network with landscape professionals.
Brito is the owner of Brito Landscaping in East Greenwich. At first glance, he seems an unlikely champion of the lowliest of our citizenry. But Brito is all about second chances. As a recovering alcoholic, he's well aware of both human frailty and the need for people to offer helping hands.
So, he teaches the course and has even taken on one of this year's graduates to work for him for the season.
Among those who spoke at the graduation ceremony were Providence Mayor Angel Tavares, who urged the men to be active in civic life, including registering to vote, and City Council President Michael Solomon.
Four of the graduates have gotten jobs. The others are looking and could use help. If you have any leads, contact The Blessing Way at (401)709-3697 or blessingwayinfo@yahoo.com.