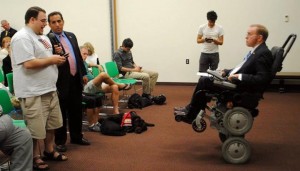 Give Congressman Jim Langevin credit: he withstood some passionate and intense questioning from his constituency last night, especially surrounding his recent vote against the Amash Ammendment which would have curbed the NSA's ability to spy on American citizens.
Defending this vote last night lead Langevin to bring up the recently revealed "fact" that 54 foreign and domestic terror plots have been foiled thanks to the NSA monitoring our phone calls, with the caveat that most of these plots are state secrets, and the details cannot be revealed.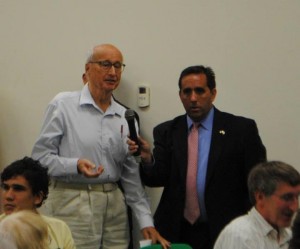 Most in the crowd were unwilling to accept this attitude of "trust us, this is for your own good" and steadily insisted on greater transparency. Langevin countered that he feels that there is a difficult line to be walked between Fourth Ammendment privacy rights and keeping us safe from terrorists. At one point Langevin unwisely brought up 9/11 as the kind of terror plot that might have been averted by the NSA's new powers, (an idea the New York times called "laughable") and was called on this by Catherine Orloff of Providence and Rod Driver of Richmond.
It was Rod Driver who made the point that Edward Snowden, who revealed the NSA spying, has been branded a traitor and faces serious jail time if he returns to the US, yet NSA chief James Clapper, who lied under oath to Congress, still has his job (and as of yesterday will be investigating his own potential malfeasance.) Langevin was too quick to make excuses for Clapper's lies, which was disturbing.
Langevin noncommittal on Glass-Steagall
Langevin was asked questions on a diverse range of issues, including jobs and education, but the other issue that became contentious was Langevin's noncommittal stance on reinstating Glass-Steagall which would restore the wall between commercial banks and security firms. Langevin has not ruled out supporting reinstatement, but is maintaining a "wait and see" stance, hoping other reforms, like the new Consumer Protection Agency, will be enough to restore and protect the economy.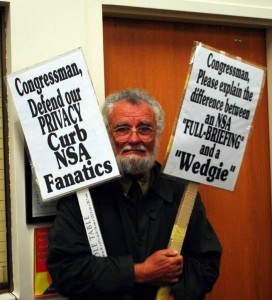 Just as the NSA spying controversy has brought together unlikely allies on the political right and left calling for reform, so has the reinstatement of Glass-Steagall brought together groups as diverse as the Progressive Democrats and the LaRouche PAC.
It was a tough crowd for the Congressman, arguably the most conservative member of Rhode Island's congressional delegation, but the evening was civil and presented no big surprises or shifts in policy.
Langevin defends NSA vote, open-minded on Glass-Steagall

,