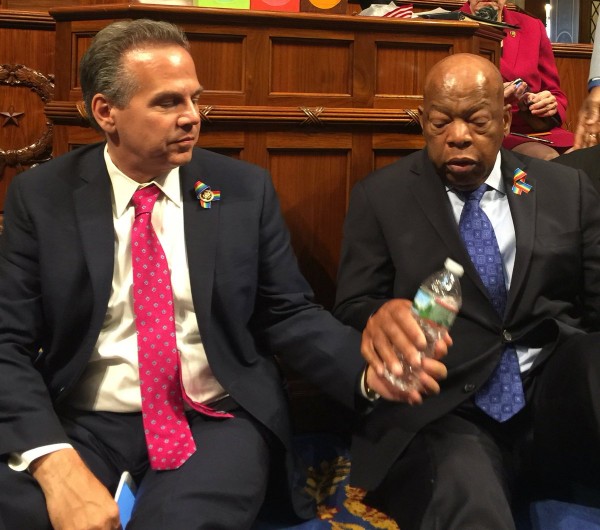 Congressional Democrats shut down the U.S. House of Representatives by staging a sit-in on the floor that lasted more than 12 hours, led to disarray and physically prevented Speaker Paul Ryan from conducting business.
They were protesting against House Republicans who refuse to allow a vote on a bill that would get guns out of the hands of suspected terrorists. The civil disobedience was organized, in part, by Rhode Island Congressman David Cicilline. Georgia Congressman John Lewis, a hero of the Civil Rights Movement, was the undisputed leader and moral compass of what some called the "beginnings of a movement."
The planned direct action began shortly after 11am. RI Future reported on it just before 1pm. Shortly after 1am, Speaker Ryan and House Republicans called for vote to adjourn until July 5 at 2:30 am. Minority Leader Nancy Pelosi said Republicans were sneaking out in the dark of night.
Earlier in the evening, Ryan was shouted down when he tried to conduct business and he retreated from the speaker's rostrum. Democrats chanted "shame, shame, shame" as he and his fellow Republicans left the chamber. From the back of the chamber, Republicans tried briefly to shout down the Democrat's protest. One yelled "radical Islam" over and over. The civil disobedience had devolved into bedlam. The New York Times called it a "remarkable scene of pandemonium."
Democrats held control of the chamber for four more hours, broadcasting live not through the traditional TV cameras in the Capitol but rather through the Periscope and Facebook Live feeds of legislators.
"Still here," Cicilline tweeted just after midnight.
Still here. Sit-in continues with @repjohnlewis, @RepKClark, and @RepTerriSewell. pic.twitter.com/0dueOajZom

— ((David Cicilline)) (@davidcicilline) June 23, 2016
Cicilline was lauded by his colleagues throughout as a leading voice and organizer of the effort. RI Rep. Jim Langevin also participated, but Cicilline played a leading role throughout the event. He stood next to Rep. Lewis for much of the evening and even joined in the mayhem when Republicans made a failed effort to regain control early in the evening, shouting at House security who tried to remove spectators from the balconies, which are typically off limits to the public when the House is in session, saying "This is the people's House!"
In a speech he delivered just after 2am, Cicilline said, "We've now been here for about 14 hours and I just want to make sure everyone understands what House leadership is about to do. We all talk about the great promise of America … none of it is real if we can't keep people alive. We tried to have a discussion about these sensible ideas. The American people are going to wake up in the morning and realize the Republicans allowed us to do nothing about this problem. Shame on them for blocking these common sense proposals."
House Democrats are calling for a floor vote on a bill that would deny guns for people being investigated as terrorists. While a similar bill was defeated in the Senate, Speaker Ryan has not let it come up for a vote in the House.
Outside Congress, a protest of the people convened. "In my 5 decades in Congress, I've never seen us come together like this," said Michigan Congressman John Conyers.
The gravitas of Congressman Lewis, who has endured brutal beatings from the police for protesting during the Civil Rights era, was palpable throughout the affair.
"Thank you for getting in trouble," he said during one of his speeches during the action. "By sitting-in you are standing up. I don't know what the end is going to be. But my idea: just stay here. Just stay here."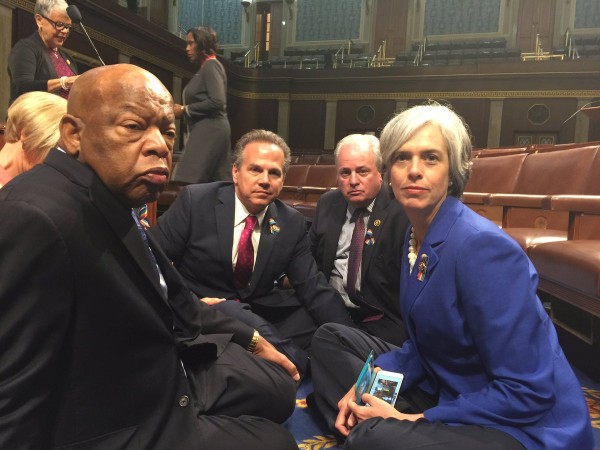 Led by Cicilline and Lewis, Dems shut down House of Representatives

,