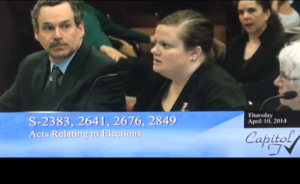 At the RI Coalition for the Homeless, says LeeAnn Byrne, caseworkers spend a significant amount of time trying to secure photo ID for the homeless, because "they do recognize it's important for obtaining housing and other services." Any delay in obtaining such ID should not disqualify a person from voting, and if someone enters a shelter once month before an election their ability to vote should not be the number one concern of caseworkers.
These people need help to get back on their feet, they should not have to worry about whether or not their right to vote will be respected.
"It's just important for all of you to know that our constituents are constantly silenced while they experience homelessness, one of the most overlooked and invisible populations in our state," she said. "They face daily barriers to obtain all their daily needs, from food to shelter to clothing. The one place where they are equal, the one place they can share their voice without discrimination should be the voting booth.