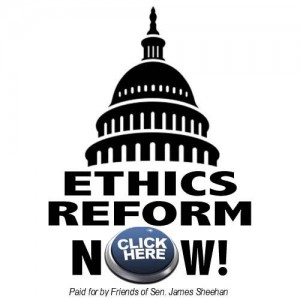 In 1992, justices of the Rhode Island Supreme Court declared unanimously that prior to the Ethics Commission, "widespread breaches of trust, cronyism, impropriety, and other violations of ethical standards decimated the public's trust in government." The 1986 Constitutional Convention passed an extraordinary Ethics in Government Amendment, and the people approved. This amendment called for the establishment of a strong non-partisan, independent Ethics Commission which would ensure that all elected and appointed public officials would "adhere to the highest ethical standards; respect the public trust; not use their position for private gain or advantage" and, in general, serve the greatest good.
Like having a new sheriff in town, the "Wild West" of unethical behavior diminished when the Ethics Commission began to patrol the halls of government.  While no oversight mechanism is ever perfect, the Ethics Commission proved to be an effective watchdog for elected and appointed public officials over many years.  However, a 2009 Supreme Court ruling involving former Senate President William V. Irons, struck a severe blow to the Ethics Commission's oversight authority over the General Assembly.  This decision effectively exempted state lawmakers from scrutiny and prosecution by the state Ethics Commission for violations relating to their core legislative acts such as voting, sponsoring bills and introducing legislation.  Currently, any member of the General Assembly may pursue legislation for which he or she has a substantial conflict of interest without fear of being held accountable by the Ethics Commission.  This "legislators' loophole" must be closed.
Since 2010, every attempt to close this "legislators' loophole" died in either the Senate or House.  At the start of this session, it appeared that, once again, that the ethics amendment (ethics reform) was, to borrow an expression from former Senate President Irons, "Not going nowhere!"
But, public opinion and individual voices have helped breathe new life into the ethics reform effort this session.
Both Speaker Nicholas Mattiello and Senate President Teresa Paiva-Weed deserve credit for agreeing to address this important issue this year.  However, their commitment has not occurred in a political vacuum.  They recognize that the upcoming election appears to be seething with anti-establishment or anti-incumbent sentiment.  Angry voters are seeking positive change from their government.  Failure to place a credible ethics amendment on the November ballot could hurt the re-election chances of members of the Senate and House team.  Moreover, the Speaker and President undoubtedly know that a growing number of their House and Senate members support ethics reform, and wish to see the "legislators' loophole" closed.  As long as ethics reform remains in the public eye, the imperative to pass an ethics amendment will not dissipate.
Even now, there is no guarantee that the General Assembly will pass a credible ethics amendment and send it to the voters for ratification in the fall.  There remain two formidable pitfalls. First, the House and Senate fail to agree on a specific ethics bill text (language), which would mean the death of ethics reform again this year.  Second, Legislative leaders agree to an identical ethics amendment text that would weaken the Ethics Commission in the process.  For example, if legislative leaders were to propose to eliminate the rule making ability of the Ethics Commission, only the General Assembly would be able to make or amend ethics rules going forward.  Given Rhode Island's unique history of scandal and corruption, often at the hands of the General Assembly itself, this would be unwise.
Speaker Mattiello and President Paiva-Weed stand at the threshold of passing authentic ethics reform.  In this endeavor, I can only hope that they will lead wisely and serve the greatest good by restoring a measure of public trust in our state government.
Legislature should pass ethics reform for legislators this year

,