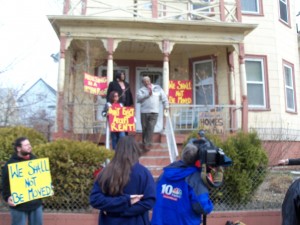 Accompanied by her children and grandchildren, Lilia Abbatematteo protested the Federal National Mortgage Agency's (Fannie Mae) attempt to evict them from their home on Chapin Ave. in Providence.
When her mother, Maria Amaral, passed away, Ms. Abbatematteo inherited the house in which she'd lived for the past 40 years, along with the mortgage, at the time owned by Chase Bank. Despite many efforts to modify the loan and make affordable payments, Chase insisted they could not communicate with Ms. Abbatematteo about permanently modifying the loan. The bank was, however, willing to take three trial modification payments from Ms. Abbatematteo after she hired a private attorney to advocate on her behalf.
In search of support the week before the foreclosure auction in September 2013, Ms. Abbatematteo responded to outreach from the Tenant and Homeowner Association (THA), a committee of DARE (Direct Action for Rights and Equality), a 27-year old social justice organization based in South Providence. The THA, made up of owners and tenants who have faced foreclosure and eviction, agreed to support Ms. Abbatematteo and organized an auction protest. The protest successfully deterred private investors, in search of quick profit, from purchasing the home, though it changed hands from Chase Bank to Fannie Mae.
When Fannie Mae's representative approached Ms. Abbatematteo, she told them that she, along with the tenants renting the third floor, would like to stay and pay rent. Fannie Mae has a program called "Tenant-in-Place," by which the quasi-governmental agency maintains renters in its REO (foreclosed) properties. Ms. Abbatematteo applied to rent from Fannie under this program, which was offered to her by Fannie's real estate representative. By the end of the year, however, no answer was forthcoming. Fannie recently began eviction proceedings against Ms. Abbatematteo and her tenants, without a formal response to their request for "tenant-in-place."
"We wouldn't be in this place if Chase had worked with me before the foreclosure. We wouldn't be in a position where two families were facing homelessness, and this neighborhood was going to be burdened with another foreclosed and abandoned property like the one down the street," explained Ms. Abbatematteo.
Two dozen people arrived at 129-131 Chapin Ave. at 10:00 am Wednesday morning. The protesters carried signs reading, "Housing is a Human Right," and "Don't Evict, Negotiate!" Ms. Abbatematteo addressed the crowd using a bullhorn. She explained why the house was important to her and her family. "This house is where I was raised. My children were raised here and my grandchildren are being raised here. My granddaughter says, 'I don't want to move.' This is heart-wrenching. My work commute is only around seven minutes. I like my neighbors and I love it here. I've lived here for forty years."
DARE member and leader in the THA Malchus Mills deplored the devastation being caused by the foreclosure crisis in Providence and RI, citing a Fannie Mae foreclosure around the corner at 198 Althea Street, which was foreclosed in 2011 and recently burned down. The organization plans to continue to protest Fannie's attempts to evict these families, encouraging the crowd to return and protest if an eviction order is granted in court.
Please sign Lilia's national petition to Federal Housing Finance Agency (FHFA) director Mel Watt, encouraging him to call off this unjust eviction!