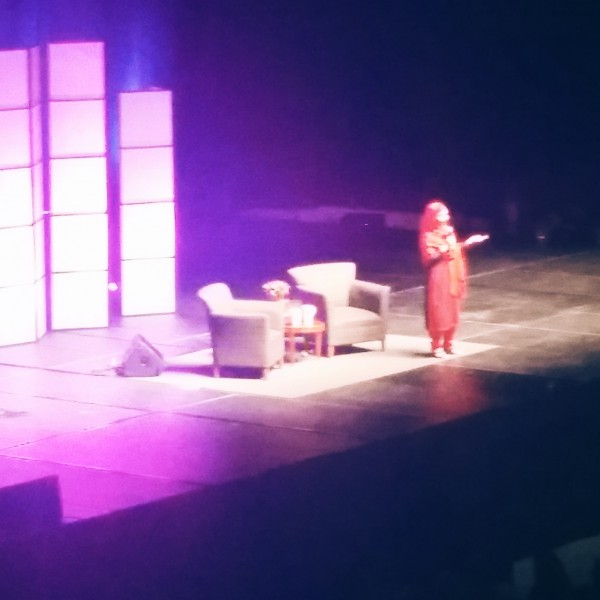 To her fans and supporters all over the world, she is Malala. She is a superstar. But when she arrived in Providence the night before her appearance at the Dunkin Donuts Center, no one recognized her.
On her first night in our city, Malala Yousafzai, youngest ever recipient of the Nobel Peace Prize, ate at the restaurant India on the East Side. In her telling, she ate too much and decided to go for a walk in the park with her father. In the park, she says, "Nobody was even looking at me." Everyone was too busy playing Pokémon Go. Nineteen year old Malala knew about the game, her brothers play it, but her father did not know about it. They talked to a couple of players, asking them to explain the game. Her father still doesn't understand the game. Malala doesn't play but she is happy that the game gets her brothers out of the house, instead of keeping them indoors playing games on the television.
It's such an ordinary story, yet Malala Yousafzai has not had an ordinary life.
On October 12, 2012, Malala Yousafzai, already an outspoken education advocate, was 15 years old when two members of the Taliban, no older than she, got on her school bus in Pakistan and shot her in the head. As Malala spoke about that day before an audience of 6,000 in Providence Thursday evening, she said, "It was the longest bus ride. I still haven't arrived at my home in Swat Valley."
Malala doesn't remember the day of her attack. She was taken from hospital to hospital before ending up in Birmingham, England. After multiple operations and procedures she says is well and nearly fully recovered. About the men who shot her, Malala said, "The two boys who attacked me are about the same age as me. They were brainwashed. I blame the ideology. Islam doesn't allow anyone to kill another person. Forgiveness is the best revenge."
"The terrorists tried their best," said Malala, "and I realized that even God is supporting me. Even Death is supporting me. Death doesn't want me."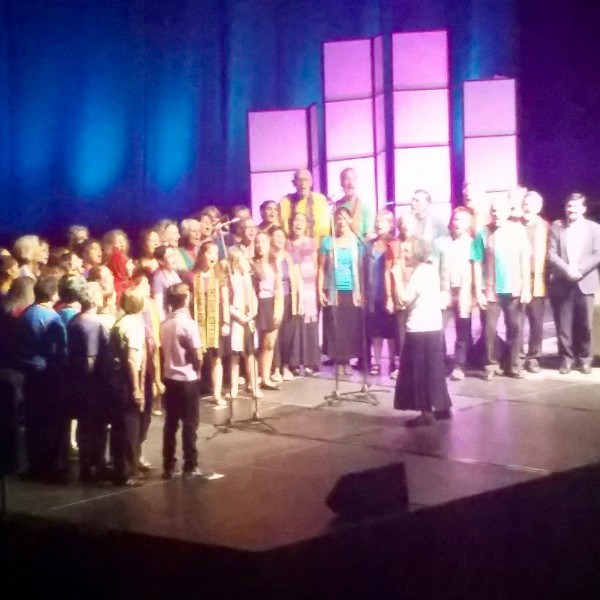 When Malala was 11 the Taliban took over her homeland in Swat Valley, Pakistan. The Taliban stopped her education. "Women's rights and dignity were taken away… That was a very hard time." On her last day of school, Malala says she "decided to speak out for [her]self and all the girls in [her] community."
She wrote about life under Taliban control and the need for education for women for the BBC and was profiled and wrote for the NY Times. When her name and the name of her father, Ziauddin Yousafzai, a school principal, was revealed on the radio, she became a target.
Since her recovery Malala has become an outspoken advocate against terrorism and for women's rights. She has spoken out against child labor and child trafficking. She became the youngest recipient of the Nobel Peace Prize in 2014, sharing the honor with Kailash Satyarthi, a children's rights activist from India. Malala, ever humble, doesn't see the Nobel Prize as something she received. She sees it as an award recognizing the importance of children.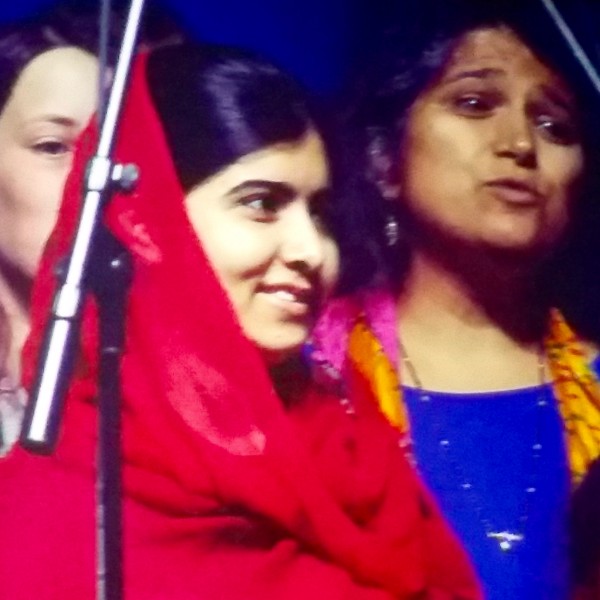 Malala doesn't see herself as special. "There are amazing girls in Swat Valley better than me," she said, "but their parents did not allow them an education." Malala's father supported his daughter's right to an education. When people ask her father what he did to raise such a daughter, says Malala, her father answers that it's what he didn't do that is important.
"I didn't clip the wings of my daughter," says her father.
Channel 10's Patrice Wood conducted Malala's interview, but at one point, Wood handed over the questioning to Hilde Lysiak, a nine year old reporter who publishes The Orange Street News. Lysiak's reporting came under fire earlier this year when she covered a murder that took place near her home. Many were outraged that a cute nine-year old girl was covering a terrible murder. Lysiak struck back with a masterful video telling people who didn't like her reporting, "If you want me to stop covering news, then you get off your computers and do something about the news. There, is that cute enough for you?"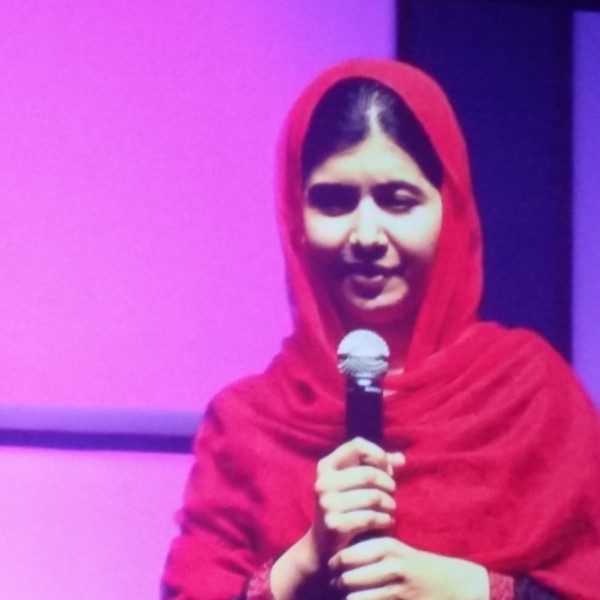 Lysiak's short, on-stage interview with Malala demonstrates Malala's commitment to women's rights and the power of young girls. She was excited to answer Lysiak's questions. To Malala education means allowing children the right to question and giving them access to critical thinking skills.
"Believe in yourself," said Malala several times.
Malala is a devout Muslim. She wears a headscarf but balks at covering her face, as is the tradition for many. She believes that women should make their own choices. "Freedom means I wear the headscarf, as is my right," said Malala. "I don't feel comfortable covering my face, because that is who I am."
As for being a young woman meeting with presidents and prime ministers, Malala says she is not afraid of powerful world leaders.  "Am I afraid of presidents?" she asked, "Presidents should be scared of me because I'm speaking for the people." It is the government's responsibility to provide "complete, quality education for every child." And Malala intends to hold governments and leaders to this obligation.
"Terrorists," said Malala, "understand how important education is."
In the video below, a choir sings a song written to honor Malala, and she joins them on stage.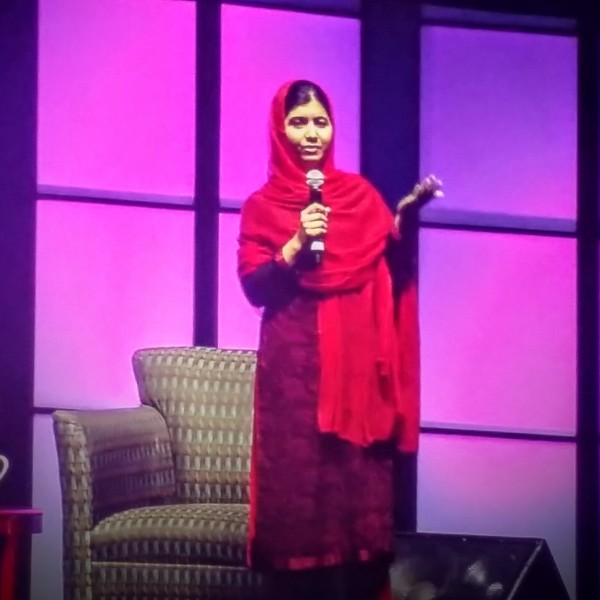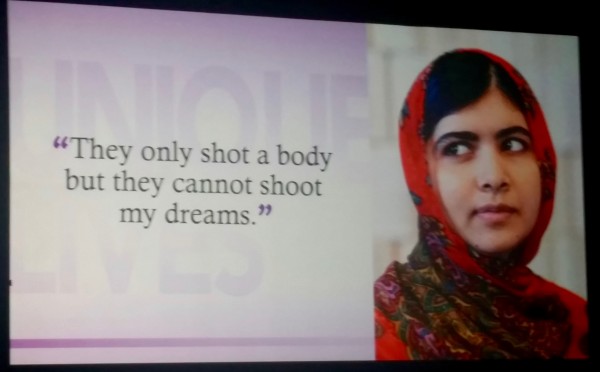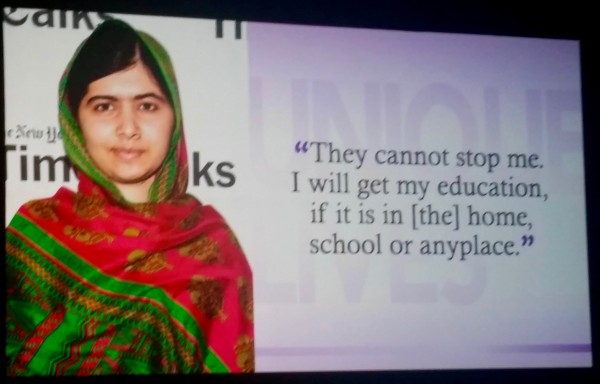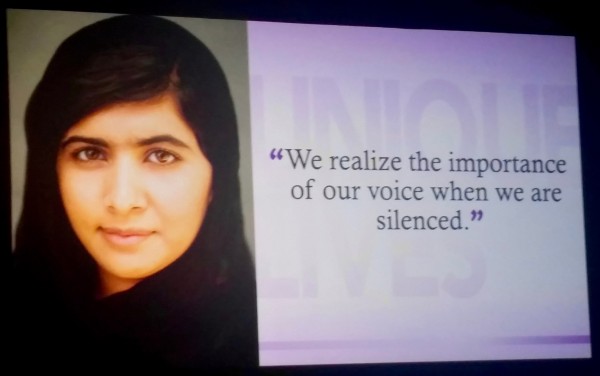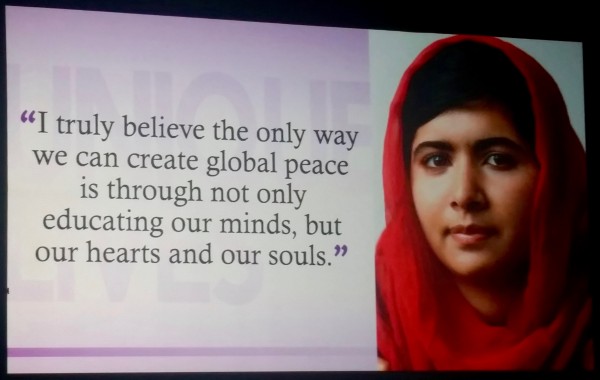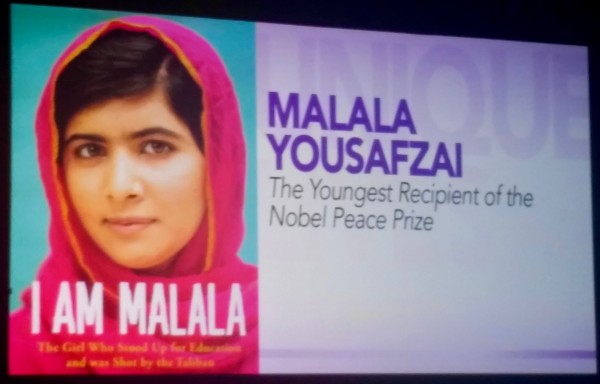 Malala Yousafzai comes to Providence, talks education and Pokémon

,