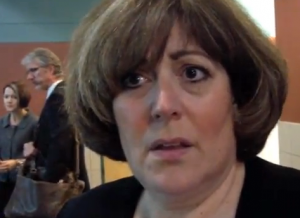 Eva Mancuso was for debating the NECAP issue before she was against it.
The oft-embattled chairwoman of the state Board of Education voted against a debate on the highly-politicized issue last night despite saying in May that it was an "important" issue that would "be coming before the Board."
"I certainly want to look at that issue," she told me in this video. "I think that's an important issue to have on our plate."
You can watch her say it in this video:
Mancuso also said in the video, "I don't think it's the best test."
In a tweet this morning related to this video, Jean Ann Guliano wrote, "Chair Mancuso promised a debate. I hope she keeps her word. Since this interview, the Board has met at least twice in private to discuss the matter. Mancuso has yet to explain why she changed her mind.
Rhode Island's Race to the Top federal funding is tied to its plans to use he NECAP for student and teacher evaluation.