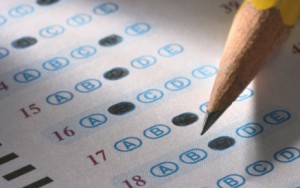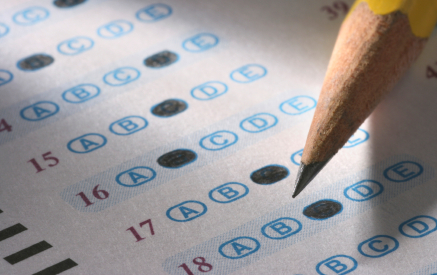 High stakes testing is perhaps the most highly-charged political issue in Rhode Island this year – it continues to make national news and an extremely diverse coalition of parents, civil libertarians and disability activists have sued the state over the brand new policy that could leave 40 percent of high school seniors without a diploma. But the Board of Education doesn't want to discuss it.
In a 6 to 5 vote last night, Governor Linc Chafee's Board of Education voted against revisiting using the NECAP test as a high stakes graduation requirement.
"It's certainly disappointing but I'm not discouraged," said Jean Ann Guliano, an East Greenwich parent and politician. Guliano, who was chairwoman of the East Greenwich School Committee and ran for Lt. Gov as a member of the Moderate Party, has a son with autism whose hopes of graduating high school could be dashed by the NECAP requirement. "A 6-5 vote means that some people are starting to listen."
But Steven Brown, executive director of the RI ACLU, which says the NECAP requirement unfairly targets poor and disabled students, was less conciliatory. In a statement sent out this morning, he said:
It is unconscionable that thousands of high school seniors may soon face their loss of a diploma based on an arbitrary test score, and will do so pursuant to a policy that the Board of Education itself has never directly considered.

Even worse, just weeks after being chided by a court for seeking to hold a discussion of high stakes testing in secret at a 'private' retreat, the Board tonight once again showed its disdain for the open meetings law by discussing this petition in complete secrecy. The public has no idea whatsoever why the Board took the action it did last night, and that is the antithesis of what the open meetings law is all about. We will be considering next steps, as this fight is far from over.
The Providence Journal reports "Those voting to deny the students' petition were: (chairwoman Eva) Mancuso, Michael Bernstein, Karin Forbes, Jo Eva Gaines, William Maaia and Patrick Guida. Those voting in favor of reconsidering the NECAP were: Antonio Barajas, Colleen Callahan, Larry Purtill, Michael Grande and Mathies Santos."
Rhode Island's Race to the Top federal funding is tied to its plans to use he NECAP for student and teacher evaluation.