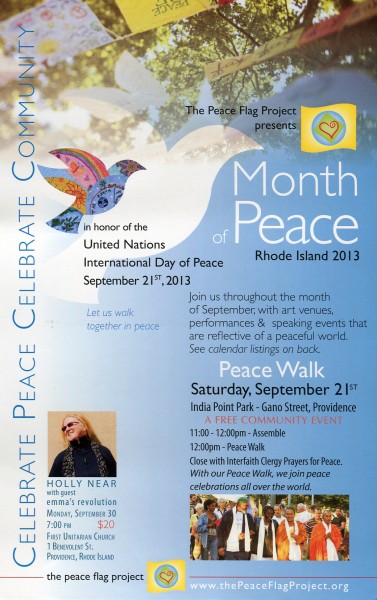 Lost among the headlines surrounding potential U.S. involvement in the ongoing and tragic Syrian Civil War is that the month of September 2013 is the month of peace, and a series of activities and events have been planned around September 21st, the United Nations International Day of Peace.
Ginny Fox is the Director of the Peace Flag Project, and is instrumental is raising awareness about the promise and possibility of peace. The Peace Flag Project is inspired by Tibetan Prayer Flags, (a short history can be seen here) when it was "suggested by contemporary Tibetans that we create our own prayer flags by imprinting them with poems, prayers and symbols from the great faiths of the world in hopes of uniting them in a spirit of peace and harmony."
For the past several years the Peace Flag Project has celebrated the UN International Day of Peace with a Peace Walk at India Point Park and this year is no exception. In addition, there are at least ten other events planned including Peace Flag workshops, an art exhibit, festivals, films and concerts. (See the schedule below)
If advertisers can talk about the number of impressions an advertising campaign can generate towards building brand identification and awareness then perhaps Peace Flags, vigils and other events can make a similar impression in our minds regarding Peace. The first thing we have to do, of course, is believe such a thing as an end to War is possible.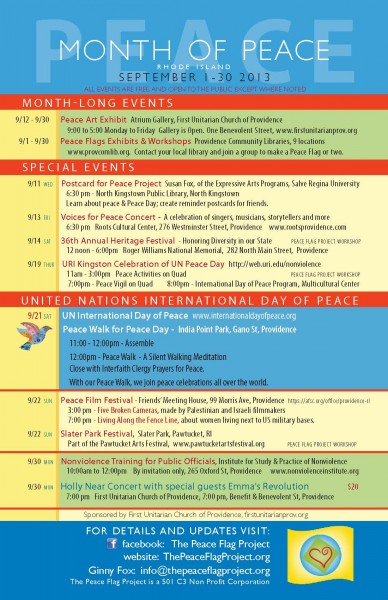 The Peace Flag Project and the Month of Peace

,