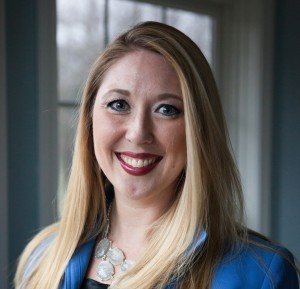 It's been official for a while, but tonight it will be officially official. Margaux Morisseau will kick off her campaign for the District 21 Rhode Island Senate seat  tonight at the Corner Bistro, 1115 Hartford Pike, North Scituate 02857.
Margaux Morisseau is the director of Community Building & Organizing for NeighborWorks Blackstone River Valley, a nonprofit Community Development Corporation which builds homes and communities for low-to-moderate-income families throughout Northern Rhode Island. In the program, she works with neighbors and directs programs including NWBRV's K-12th grade college access youth programs, the organization's AmeriCorps VISTA program, and the community organizing and advocacy initiatives. She is dedicated to effecting change through working with youth, asset building, and empowerment and has been involved in the nonprofit community since 1996 when she served as an AmeriCorps member with City Year Rhode Island.
Margaux is also the founding director of the RI chapter of New Leaders Council, a national non-profit that works to train and support progressive political entrepreneurs. As part of her advocacy work she leads the RI Coalition for Payday Lending Reform. She serves on the board of directors for the Fund for Community Progress and the Housing Action Coalition of Rhode Island. In addition, she is an appointed member of the Scituate Affordable Housing Committee.
Margaux has a certificate in Community Development from Roger Williams University and has a bachelor's degree in Business Management from Rhode Island College. She completed Bank of America's Emerging Leaders Program in 2009 and Leadership Blackstone Valley in 2005. Margaux has been recognized as a National Collegiate Entrepreneur when she owned and operated The Greenery, an award winning floral, garden and gift shop in North Scituate. In 2011, the Fund for Community Progress named her Board Member of the Year. In 2013, The Woonsocket Police Department named her Citizen of the Year. And in 2014, NeighborWorks America honored her with the National Award for Excellence in Community Building.
It is an honor and a pleasure to be supporting Margaux in bringing her experience and education to bear on a bid for the R.I. Senate. Aside from her stellar resume, I know Margaux to be one of the most open-minded, kind-hearted, and responsive people that Rhode Island has to offer.
Please join us this evening. Meet the candidate, and enjoy one of Scituate's best restaurants. A suggested donation of $40 is payable by check or credit card at the door. You can let us know that you are coming by responding to the Facebook event here.
If you can't make it to the event, but would still like to support Margaux, you can donate here.