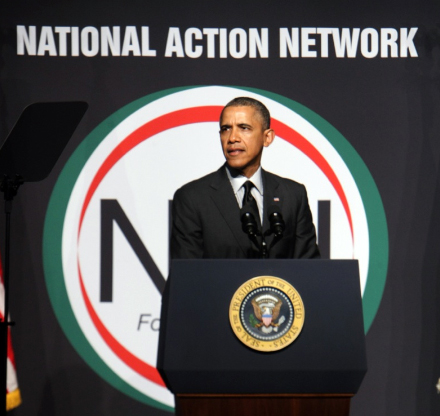 On Friday afternoon President Obama was in New York City speaking at the National Action Network's annual convention about Voter I.D. bills and Republican led efforts to restrict voting rights. Here in Rhode Island, of course, efforts to restrict voting rights with Voter I.D. laws have been lead by Democrats, and at the Senate Judiciary Committee meeting held on Thursday night, one day before Obama's appearance in New York, state Senators Metz, Lombardi and Raptakis were quite vocal in their defense of the law, despite the steady stream of human rights groups that testified for its repeal.
Contrasting the opinions of the Democratically controlled Rhode Island State Senate with those of President Obama demonstrates how out of sync Rhode Island politics have become.
Had President Obama testified before the Senate Judiciary Committee using the words he spoke in New York, the conversation might have gone something like this. (All quotes come directly from Obama's New York speech.)
Every American citizen must have an equal right to vote. Voting is a time when we all have an equal say. Black or white, rich or poor, man or woman, doesn't matter. In the eyes of the law and in our democracy, we're all supposed to have that equal right to cast our ballot to help determine the direction of our society. The principle of one person, one vote is the single greatest tool we have to redress an unjust status company.
But, says Senator Raptakis, if even one person votes under false pretenses, doesn't that undermine our electoral process? The President agrees.
Yes, we're right to be against voter fraud. We don't want folks voting that shouldn't be voting. Let's stipulate to that as the lawyers say. But there is a reason why those who argue that harsh restrictions on voting are somehow necessary to fight voter fraud are having such a hard time proving any real widespread voter fraud. So I just want to give you some statistics. One recent study found only ten cases of alleged in person voter impersonation in 12 years. Ten cases. Another analysis found that out of 197 million votes cast for federal elections between 2002 and 2005, only 40 voters out of 197 million were indicted for fraud. For those of you who are math majors, as a percentage, that is 0.00002%. That's not a lot. So let's be clear: the real voter fraud is those that try to deny our rights by making arguments about voter fraud.
Senator Metz takes the microphone and tells the President that he has heard anecdotal evidence to the effect that voter fraud has been attempted and taken place. The President is not convinced by anecdotal evidence, because such evidence is useless in determining public policy. Obama counters the unsubstantiated claims of Senator Metz with a fresh dose of reality.
In some places women could be turned away from the poll just because they're registered under their maiden name but their driver's license has their married name. Senior citizens are told they cannot vote until they come up with the right I.D. About 60% of Americans don't have a passport. Just because you don't have the money to travel abroad doesn't mean you shouldn't be able to vote here at home.
Now the Senators are getting annoyed. They don't want to hear logical arguments and ethics. They want to solve imaginary problems and ensure their reelections. It is suggested that repealing the Voter I.D. law will send the signal that voter fraud is somehow okay in Rhode Island. Obama looks confused, and decides to explain his position in such a way that even a Rhode Island State Senator might understand.
It is wrong, deadly wrong, to deny any of your fellow Americans the right on vote. It's wrong to it make citizens wait for five, six hours just to vote. It's wrong to make a senior citizen who no longer has a driver's license jump through hoops to exercise the right she has cherished for a lifetime. Americans did not sacrifice for the right to vote only to see it denied to their kids and their grandchildren.

There are a whole bunch of folks out there who don't vote for me, didn't vote for me, don't like what I do. The idea that I would prevent them from exercising their franchise makes no sense. Black or white, man or woman, urban, rural, rich, poor, Native American, disabled, gay, straight, Republican or Democrat, voters who want to vote should be able to vote.

Period. Full stop.
You can watch President Obama's full speech below: