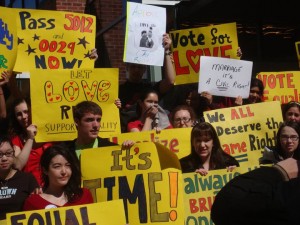 Politics is unlike baseball in that sometimes it makes sense to take your eye off the ball. That's because sometimes the real action isn't where the players are focusing. It was in that spirit that Phoenix editor David Scharfenberg wrote his excellent piece on the marriage equality debate at the State House.
"When same-sex marriage legislation died in the General Assembly last summer without so much as a vote, attention focused on openly gay Speaker of the House Gordon Fox. Had he done enough?," he wrote. "But if that's part of the story, it is only part. The truth is Rhode Island's same-sex marriage fight is centered not in the House, but in the Senate."
It's true. State House sources tell me that the House already has the votes to pass marriage equality and electoral soothsayers expect that chamber will pick up even more votes. However, Scharfenberg reports that the Senate seems locked down the other way. But he breaks down the Senate races that could help swing the balance of power in that chamber:
There are some electoral battles concerning marriage equality on the Senate side too.
We've already highlighted Laura Pisaturo's challenge to Sen. Michael McCaffrey. She's a lawyer and a lesbian in a longtime committed relationship and he's the chairman of the judiciary committee and one of the biggest road blocks to gay marriage on Smith Hill.
Scharfenberg did too and he also found some others:
Two-term Democratic Senator Michael Pinga of West Warwick, a gay marriage opponent who won a close primary fight in 2010, is facing energetic same-sex nuptials supporter Adam Satchell in the primary.

Republican Senator Bethany Moura, a same-sex marriage opponent who represents Cumberland and Lincoln, faces a likely rematch with Democrat Ryan Pearson, a gay nuptials proponent she edged by just 343 votes last time.

And freshman Senator Glenford Shibley, a Coventry Republican opposed to gay nuptials, will have to run his first re-election campaign during a presidential tilt sure to drive Democrats to the polls in large numbers.
Then he finished his piece by bringing the attention to the most critical player in Rhode Island's debate over marriage equality: Senate President Teresa Paiva Weed.
The focus, until now, has been on Speaker Fox and the legacy he'd like to leave. But the real question is: what kind of legacy does Paiva Weed want to build?

Does she want to be remembered as the principled defender of traditional marriage or as a leader who stepped aside, despite her own reservations, to let history make its jagged march to progress?