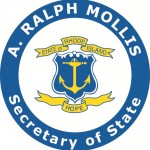 This Sunday is the deadline to register to vote in the September primary. It is also the last day for voters who have moved or changed their names since the last time they voted to re-register in order to cast a ballot on Sept. 11.
Why a Sunday? State law requires Rhode Islanders to be registered at least 30 days before an election in order to be eligible to vote. In order to register, you must be at least 18 years old by Nov. 6, a resident of Rhode Island and a U.S. citizen.
Even though the deadline falls on a Sunday, our office at 148 West River St. in Providence will be open from 8:30 a.m. to 4 p.m. In addition, every municipality has made arrangements to enable residents to register close to home at the last-minute.
Rhode Islanders can also download a voter registration form. In order to beat the deadline, your original, signed form must be received by us or your local voter-registration location by closing time on Sunday.
September's primary will include races for the U.S. House of Representatives as well as some General Assembly seats and municipal offices.
Sunday Is Crucial Deadline for September Primary

,