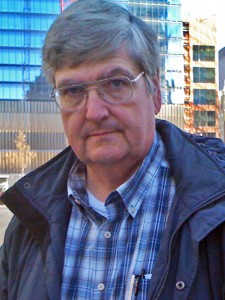 John McDaid, best known for the Hardeadlines blog, has been a digital publisher since the BI era (before internet). Now his pioneering efforts from that era are being curated, and saved for posterity, with the help of a National Endowment for the Humanities grant.
McDaid's 1993, hopefully-soon-to-be-a-cult-classic "Uncle Buddy's Phantom Funhouse" is science fiction told through science fiction.
"It was an attempt create a new kind of non-linear fiction entirely through artifacts," he said. "The premise is that you, as the reader, have come into possession of a vanished science fiction writer's hard drive, and you need to piece together the story."
In 1993, it was reviewed by the New York Times.
Here are some screen shots from McDaid's non-linear science fiction. He explains each below the image.