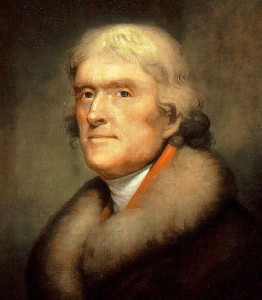 "A properly functioning democracy depends on an informed electorate," said Thomas Jefferson.
Well, at least that's what Mike Stenhouse of the RI Center for Freedom & Prosperity tells us. Problem is, that doesn't sound at all like Jefferson, and I can't find any reference with a primary source attributed to that quote.* If Rhody's Littlest Think Tank can't get a simple quote straight, what's that say about the level of fact checking that goes on, outside of "I found it on the Internets?"
So what's got Stenhouse pulling spurious quotations from the Internet anyway? At issue are proposed IRS regulations that might prevent "research organizations," such as his own, from producing partisan hit pieces or at least prevent them from continuing to pretend these reports are not political activity, distributed under the guise of educating the public. Here's how Stenhouse describes it:
The Freedom Index is intended as a tool to educate the people of Rhode Island about the activities of their government. However, under many circumstances, the proposed IRS regulations would redefine the publishing of legislator names on any kind of scorecard — such as our Freedom Index — as "political activity."
Stenhouse frames this as an issue of free speech. But what's at issue is not his ability to say whatever he likes but rather his organization's ability to avoiding paying taxes while doing so. And what better way to make that point than to wrap one's opinions in the "words" of Jefferson? Of course, Jefferson did believe in the importance of an informed electorate and often wrote about the issue. Here's how Jefferson put it, albeit less concisely:
Whereas it appeareth that however certain forms of government are better calculated than others to protect individuals in the free exercise of their natural rights, and are at the same time themselves better guarded against degeneracy, yet experience hath shewn, that even under the best forms, those entrusted with power have, in time, and by slow operations, perverted it into tyranny; and it is believed that the most effectual means of preventing this would be, to illuminate, as far as practicable, the minds of the people at large, and more especially to give them knowledge of those facts, which history exhibiteth, that, possessed thereby of the experience of other ages and countries, they may be enabled to know ambition under all its shapes, and prompt to exert their natural powers to defeat its purposes.
So what did Jefferson mean by that? He certainly wasn't envisioning Republican front-groups masquerading as 501(c)(3)s. What Jefferson was actually proposing was the creation of public schools, one of his lifelong passions.
I think by far the most important bill in our whole code is that for the diffusion of knowledge among the people. No other sure foundation can be devised, for the preservation of freedom and happiness…Preach, my dear Sir, a crusade against ignorance; establish & improve the law for educating the common people. Let our countrymen know that the people alone can protect us against these evils [tyranny, oppression, etc.] and that the tax which will be paid for this purpose is not more than the thousandth part of what will be paid to kings, priests and nobles who will rise up among us if we leave the people in ignorance.
1786 August 13. (to George Wythe)
That's right, Jefferson was in a sense the Founding Father of the public school system and actually proposed increasing taxes to pay for their creation and support, exactly the kind of activity that would have damaged his ranking as a state legislator in this so-called "Freedom Index." Wahoowa!
————————————————–
* I searched as best I could for the source of that quote, but I only found it in blog posts and always without mention of the original source. Also sometimes as "the cornerstone of democracy rests on the foundation of an educated electorate" or as "an educated citizenry is a vital requisite for our survival as a free people." Monticello lists that as a spurious quotation:
http://www.monticello.org/site/jefferson/educated-citizenry-vital-requisite-our-survival-free-people-quotation
Here is the closest quote (mentioned by Monticello's reference librarian). Stenhouse probably should have used this one:
If a nation expects to be ignorant and free, in a state of civilization, it expects what never was and never will be. The functionaries of every government have propensities to command at will the liberty and property of their constituents. There is no safe deposit for these but with the people themselves; nor can they be safe with them without information.
As I mentioned, the "problem" with that is that Jefferson was writing about public schools. The sentence before that reads (uh, oh!):
If the legislature would add to that a perpetual tax of a cent a head on the population of the State, it would set agoing at once, and forever maintain, a system of primary or ward schools, and an university where might be taught, in its highest degree, every branch of science useful in our time and country; and it would rescue us from the tax of toryism, fanaticism, and indifferentism to their own State, which we now send our youth to bring from those of New England.
I also searched…