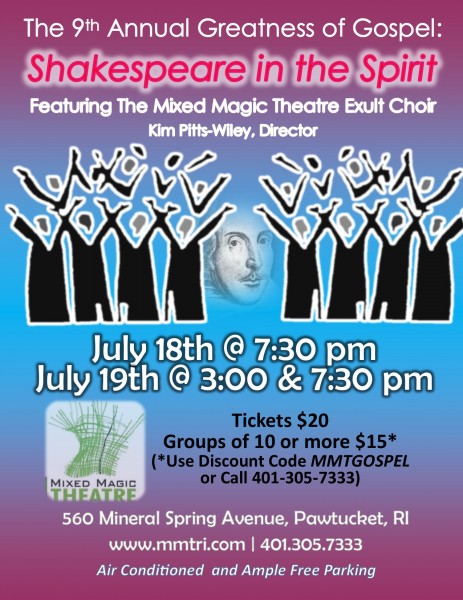 The Mixed Magic Theatre of Pawtucket will hold two performances of The Ninth Annual Greatness of Gospel series, Shakespeare in the Spirit at 560 Mineral Spring Avenue.  Featuring the Theatre's Exult Choir and with special guest Annye R. Pitts, the performance will be directed by Kim Pitts-Wiley.  Performances will be held on July 18th at 7:30 PM and July 19th at 3:00 and 7:30 PM.  Tickets are on sale for $20 with a $15 group discount for parties of 10 or more.
Says co-founder Ricardo Pitts-Wiley, this performance
Continues a tradition that explores how we can take advantage of a diversity interests and talent but at the same time explore and heighten experience of art froms that might not be presented together but can heighten experience of both.
Interested parties can contact the theater via their website, www.mmtri.com, or at 401-305-7333.
Ricardo and Bernadet Pitts-Wiley founded Mixed Magic Theatre in 2000.  Located in the Hope Artiste Village, the 501 (c) (3) is a multi-ethnic performance collective that has been responsible for a variety of shows and exhibitions, including MOBY DICK: THEN & NOW, FATE COMES KNOCKING, MISERY'S FIEND: FRANKENSTEIN, DUNBAR DONE BY, and DON QUIXOTE.