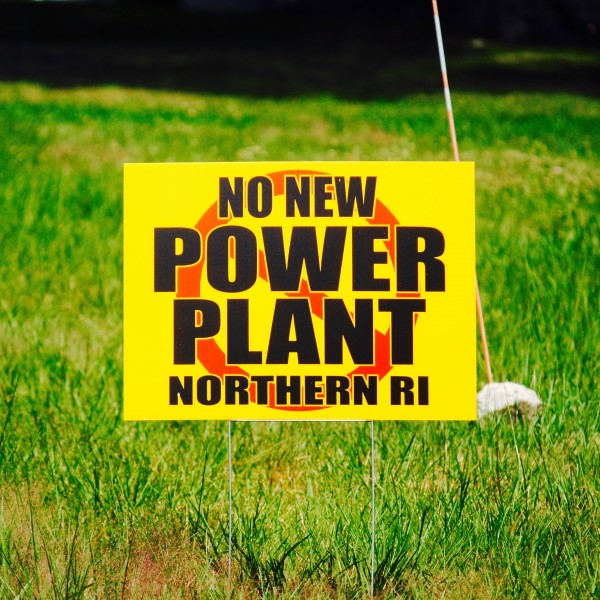 Because Invenergy "has either refused or is unable to provide timely information regarding its proposed water supply… its Application should… be dismissed" writes Attorney Michael McElroy, representing the Town of Burrillville, in a motion filed with the Energy Facilities Siting Board (EFSB) today.
Invenergy is proposing to build a $700 million fracked gas and diesel oil burning power plant in Burrillville, a project that has the support of both Governor Gina Raimondo and the Providence Journal. The residents of Burrillville and every environmental group in Rhode Island oppose the plan.
Invenergy's original plan was to pump water from a well contaminated with MTBE, but on Aug 19 the Pascoag Utility District voted unanimously to deny Invenergy access to that water. Under EFSB rules and the Act that established the EFSB, "Applications must include information regarding all required support facilities, including water resources." Without such information, writes McElroy, "The Application cannot be evaluated in a meaningful way."
McElroy's motion to dismiss also notes that the Town of Burrillville, the Burrillville Planning Board and the Burrillville Zoning Board of Review "have formally requested information regarding Invenergy's water source on multiple occasions" and that "Invenergy repeatedly promised to provide such information, but to date has failed to do so."
"In fact," writes McElroy, "in a Motion for Extension filed by Invenergy last Friday, Invenergy stated that its 'expects' to have a water source 'within the coming weeks.' This is uselessly vague.
Jerry Elmer, Senior Attorney for the Conservation Law Foundation (CLF), "supports the Town of Burrillville's Motion to Dismiss the Invenergy case, which was filed today. In fact, CLF has been preparing its own Motion to Dismiss on the same grounds as the Town's Motion:  The Energy Facility Siting Board (EFSB) process cannot go forward without the required Advisory Opinions from the Town; and the Town cannot prepare the required Advisory Opinions because Invenergy has failed to provide legally required information.
"Invenergy's application to build a new fossil fuel power plant in Burrillville is incomplete, and the EFSB must dismiss the application.  CLF argued its first Motion to Dismiss last January because Invenergy's application was incomplete then; and CLF will continue to  argue the same point now:  Invenergy's application remains incomplete.  It is past time for the EFSB to dismiss this case."
Burrillville files motion to dismiss Invenergy application

,