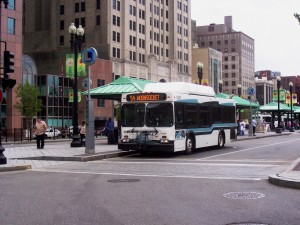 I saw my friend Jeff yesterday morning, on the way to his morning workout at the YMCA. Jeff is confined to a wheelchair, and uses RIPTA to get to the East Side Y most mornings. We chatted for a few minutes while we got on the same bus and shared it through the bus tunnel.
Because I commute via RIPTA, I walk through Kennedy Plaza pretty much twice a day, every day. In a couple of decades of riding the bus, early, late, middle of the day, I have never felt unsafe in the plaza. Now and again I've been asked for change, which I decline to give, and once or twice I've been offered bags of drugs, which I decline to buy. I've occasionally seen loud arguments and even a couple of altercations, but they were not my arguments and altercations. People loiter, but after all, how different is that from me waiting for my bus?  I see other people carrying on their lives in the Plaza, just as I've shared the bus with some people for years, and am familiar with a little slice of their lives. Their lives are not mine, so we coexist, but seldom interact.
Joe Paolino talks blithely about moving the buses to the Peter Pan station, or to Allens Avenue. He can do that because he never takes the bus, but has a driver to drop him off wherever he wants to go. If he gets what he wants, the rest of us who do not enjoy that luxury will have longer commutes, get wetter when it rains, and miss connections, in service of enhancing the value of his property.
Does anyone beside me remember the people who used to hang around the Fogarty building on Fountain Street in downtown Providence when the unemployment office was in it years ago?  I'm not so old that I could possibly be the only one, am I?  Or at the bus station on Sabin Street before that?  What about the people who would crowd around Travelers Aid (now Crossroads) off Westminster?  The bus station, Crossroads, and the unemployment offices have all been moved out of downtown, to keep "those people" away.
Now city leaders have set their sights on RIPTA, suggesting that the bus system is somehow a magnet for poor people and thus a threat to an upscale downtown, just like those other magnets. This is a familiar tune, but why do we keep singing it?  Paolino himself was the mayor who presided over moving the bus station from Sabin Street to its current remote location off I-95 back in the 1980s. Did that help? Moving these other supposed magnets out of downtown has not worked in the past. Why should anyone imagine it will do the trick this time?
The problem in Kennedy Plaza is not RIPTA, and pretending so will not solve anything, but only cause hardship and inconvenience to people whose lives are already marked by hardship and inconvenience. The problems are social problems of drugs, poverty, and homelessness, unmasked by the evacuation of workers from downtown. Abetted by state policy, and with transportation to downtown increasingly less convenient (RIPTA cutbacks anyone?), banks, law firms, and other commerce has left downtown. The state itself has removed hundreds of its employees, too. The poor people who congregate in Kennedy Plaza are not new; they are just the ones left behind.
Back before the state decided to evacuate its workers from downtown, there was a substantial presence downtown by social service agencies. In service of enhancing property values and chasing away the poor people who they "attracted", those agencies were moved out of downtown. Now there is little or nothing downtown to help people who need it, but the people are still there. How strange.
Moving these problems out of the center of town will not make them go away, but only allow our civic leaders  to pretend they do not exist. Do we want to solve those problems, or just ignore them?  Wait, don't answer that.
Moving them along

,