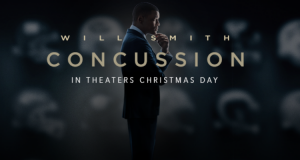 While the rest of the planet has been going absolutely berserk over a galaxy far, far away, back on earth the new Will Smith film CONCUSSION (dir. Peter Landesman, 2015) has arrived with little fanfare and turned out to be as good an anti-capitalist/borderline-socialist film that Americans will find this side of the Cuban embargo. It is certainly not a perfect film, but I think it was a well-done effort.
This anti-capitalism can be attributed to the involvement of producer Ridley Scott, the man who brought us BLADE RUNNER, PROMETHEUS, THELMA AND LOUISE, and many other films. Scott is by no means a doctrinaire Bolshevik but, always near the surface in his films, there is a quasi-Marxist element that makes his pictures unique. ALIEN is a terrifying film in part because of the monster but also because the corporation financing the entire outer space operation has set it up that way. The director's cut of KINGDOM OF HEAVEN, a marvelous film that needs to be rediscovered immediately, is a retelling on the Saladin's campaign to retake Jerusalem that shows a corrupt and banal Christian church as a pathetic arm of the medieval military-industrial complex. Almost every Ridley Scott film, even a bad one, has this populist version of a Marxist class war angle on the topic he is dealing with.
And so we come to CONCUSSION, a retelling of the plight of Dr. Bennet Omalu (Smith), the mild-mannered Pittsburgh coroner, a man who had no interest or grasp of what gridiron football is, that discovered the frequent blows to the head linemen take regularly when playing were resulting in long term debilitating illnesses. Beginning with a typical autopsy of Steelers player Mike Webster (David Morse), Omalu found an alarming pattern of brain damage that resulted in dementia-like symptoms several years after retirement. After publishing his findings in a neurological medical journal, Omalu found himself being scuttled by an all-powerful NFL that not only did not want to hear about it but were willing to go to any lengths to deny and denounce not just the research but the doctors, resorting to intimidation and taking advantage of connections within law enforcement.
Prior to viewing the film, I had watched the excellent PBS Frontline documentary LEAGUE OF DENIAL and, after screening the Scott film, read the original GQ magazine article that inspired this screenplay. Both pieces of journalism are excellent works and spare no blows for the NFL and the ridiculous Commissioner Roger Goodell who hemmed, hawed, covered-up, and absconded responsibility. Yet neither works were able to go the extra mile and adopt an anti-corporate spectrum that shows their behavior as symptomatic of capitalism. But here in CONCUSSION we have an anti-capitalist vision whose tone can be equated with the Victorian agitation against sweatshops and child labor, a tone to be found in Marx, Engels, and Dickens.
As said previously, the film is flawed. Will Smith's portrayal is imperfect and the romance subplot is a tad annoying. There is an under-emphasis on the role of Goodell, a man who has overseen more scandals than imaginable. But even if the film clings to Classical Hollywood cinema motifs, perhaps it is possible to see the picture as a tribute to Frank Capra's work. In this sense, we have a fantastic illustration of the way capital creates health hazards, well worth your time.