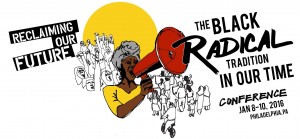 Several months ago, a colleague and I were talking about the #BlackLivesMatter movement and he said candidly "Listen, I know this is probably racist if not insensitive but where is the issue of class in this whole thing?" That is not racist and it is not insensitive, it is common sense. White supremacy has always been a class-based project around, among other things, the exploitation of labor, that's why it was first incarnated in North America as slavery, which gave the white supremacist free laborers, and genocide, which cleared the land for the white supremacist to labor on. To deny this aspect of the white supremacist project in and of America is akin to denial of the Nazi holocaust.
This has not gone unnoticed by others in the landscape. The #BlackLivesMatter movement has come to a critical crossroads that many forebears have also faced. To the Left is the embrace of a radical tradition of African thought and action embodied by thinkers like Angela Davis, W.E.B. Du Bois, and Malcolm X. To the Right is the Democratic Party and neoliberal identity politics, a post-modern miasma that will suffocate the radical spark and turn these activists into a youth caucus to be politely ignored in the name of the American imperial project. It has happened many times before, including the LGBTQQI and feminist movements, and is known as the place where all good radicals go to languish, die, and put on a suit and tie for 'respectability'.
Hoping to avoid a repetition of this disaster once again, key figures in the radical African tradition have come together to hold a free conference at Temple University in Philadelphia, RECLAIMING OUR FUTURE: THE BLACK RADICAL TRADITION IN OUR TIME, from January 8-10. Featuring keynote lectures by Angela Davis, Cornel West, Vijay Prashad, Tony Monteiro, and others, it is hoped to radicalize and invigorate the movement in ways that will prevent it from being co-opted. Those interested in attendance can get more information via the event website here or the FaceBook page here.
But wait! If you are interested in the conference but cannot get down to the City of Brotherly Love, have no fear, Rhode Island's Future has contacted the organizers and verified that they will be putting the proceedings on YouTube shortly. We will post the videos as they become available online and work to further publicize any materials related to the conference as they become available.
As a preview of what to expect, consider listening to the first segment on the weekly radio show Black Agenda Report wherein Glen Ford interviews Dr. Monteiro about the conference and its trajectory.