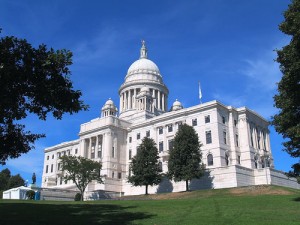 So, any of you that follow me on Twitter, or have the distinguished honor of being my "friend" on Facebook, probably already know that Feb. 26 was my first day as a beat reporter in the Rhode Island General Assembly for the fine web publication that you are now reading. You also probably know that I am a candidate for mayor in the great city of Woonsocket.
I wanted to offer a glimpse into my mind on this most auspicious of days, so I offer you this.
February 26, 2013
An eerie quiet on the rotunda
Precedes the cacaphony
Of legislative gears grinding
Echoes resonate
Off of stone floors and walls
A bell rings, it seems
For an eternity
Legislators, young and old
Begin shuffling in from enclaves
On the outer rim
Of the marble monolith
To a room, once cool and dry
That begins to steam
With body heat and breath
Flesh is pressed
Smiles and pats on the back
Exchanged ceremoniously
Lobbyists in suits mill about
Some look uncomfortable
Others, from birth, never without
Pages line the wall
Like dominoes
Ready to fall
Paper is shuffled
And passed
And read
Some, in depth
Some scanned with
Eyes half-dead
Brows furrow
Tension and relief
Tension and release
The sound of a triple thunderclap
Shoots through the chamber
Once, twice, thrice!
The House will now come to order