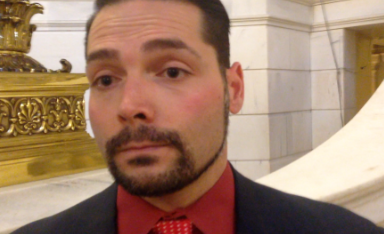 Republican Rep. Bobby Nardolillo wants Rhode Island to pick up the PayPal jobs that are fleeing North Carolina because that state passed a law discriminating against LGBTQ people, an idea also floated by some on the progressive left yesterday.
"I learned today of an excellent opportunity to draw a high profile, internationally recognized company to our state," Nardolillo wrote in a letter to Governor Gina Raimondo that he tweeted to reporters last night. "PayPal withdrew its plans to create a global operations center in Charlotte, N.C. citing the state's enactment of legislation that 'invalidates the protections of the rights of lesbian, gay, bisexual and transgender citizens and denies these members of our community equal rights under the law.'"
North Carolina passed a highly controversial law last week that broadly strips any legal protections for LGBTQ people and prevents transgender people from using a public bathroom that doesn't correspond with their birth gender. Corporate America responded by rebuking the right leaning state for being behind the times.
We are joining @HRC, @EqualityNC and more than 80 other companies calling for the repeal of #HB2.

— Bank of America News (@BofA_News) March 30, 2016
PayPal took action, deciding to scrap its plans to bring 400 jobs to a proposed global operations center in Charlotte. "The new law perpetuates discrimination and it violates the values and principles that are at the core of PayPal's mission and culture. As a result, PayPal will not move forward with our planned expansion in Charlotte," according to a statement from PayPal President Dan Schulman Monday.
Nardolillo noted in his letter to Raimondo that the discriminatory attitude of North Carolina stands in stark contrast to Rhode Island's inclusiveness. "As you know, Rhode Island has demonstrated time and again its support for all citizens," he said in the letter.
In an interview, Nardolillo said he supports LGBTQ equality and marriage equality for same sex couples. He said the North Carolina law is discriminatory. "I don't support anything like that," he said. "I feel that law is totally insensitive. I believe in equality."
Nardolillo is best known among the progressive left for his vociferous opposition to accepting foreign refugees and denying rights for undocumented workers, but he's condemned GOP colleagues he thought showed bigotry on immigration issues. He also previously drew ire from the LGBTQ community and others for backing a bill that would criminalize the transmission of AIDS. Last night, he stood behind his support saying it is "about accountability and disclosure." Read the bill for yourself here.
Rhode Island Republicans have a habit of being progressive on gay rights, a similar percentage of legislative Republicans as  marriage equality. Meanwhile, Pawtucket Democrat Rep. David Coughlin recently threatened to leave the Rhode Island Democratic Party if it doesn't take a stronger stance against LGBTQ rights.
This post will be updated if the Raimondo administration responds to a request for comment. Here's Nardolillo's letter: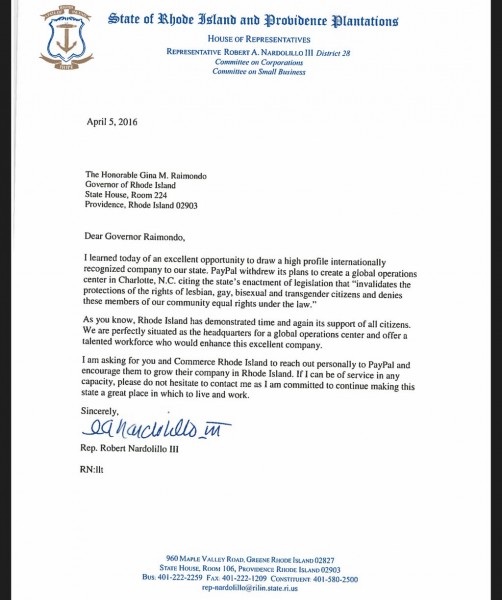 Nardolillo to Raimondo: Bring LGBTQ-respecting PayPal to RI

,