When allegations surfaced last month that National Grid was pushing ahead with their Fields Point liquefaction project despite lack of approval from the Federal Energy Regulatory Commission (FERC) and no proper permits from city and state agencies, Grid spokesperson David Graves was quick to deny it, saying, "The work underway at our property at 642 Allens Ave. property, which has been properly permitted, is unrelated to the liquefaction project."
Then this picture was taken yesterday: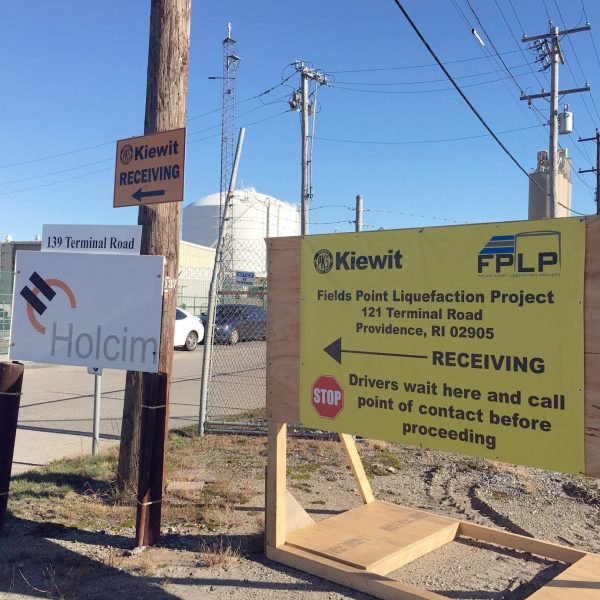 When asked for an explanation, Graves today said, "Kiewit put this sign up without our knowledge. They are the contractor building the access road for equipment and personnel working on the LNG tank embankment improvement. They are also the contractor designated to oversee installation of the liquefaction equipment when we have the OK to proceed with that project. It appears that in their minds the projects are one and the same, which is not the case. There is no work going on associated with the liquefaction project. Kiewit has been told to take down the sign and replace it with one that clearly identifies what work is underway."
It seems that the projects under way at Fields Point are so confusing and interconnected that even National Grid's contractors are having trouble telling them apart.
NoLNGinPVD, an environmental group opposed to the liquefacton facility, issued the following statement: "This is another glaring example of why we cannot trust the process at National Grid's word and why it is an embarrassment to our state that the "public" utility is pulling the strings of our public officials. DEM refuses to hold National Grid accountable and enforce the legally petitioned for Public Involvement Plan. The city council ordinance committee has shelved a resolution calling for public oversight. The federal delegation that spoke out when a similar project would have affected recreational usage of the bay by wealthy suburbanites is deafeningly silent when the burden of danger is and pollution is absorbed by working class people of color on the south side of Providence. National Grid and their contractor Kiewit do know what they are doing, they are forcing unneeded and dangerous fossil fuel infrastructure on a community of color that has raised many environmental justice concerns. They know this, and they think they can get away with it. We're going to make sure they don't."
Even National Grid's contractor doesn't seem to know what's going on in Fields Point

,