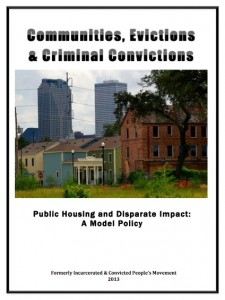 I first encountered this public housing issue over a decade ago while living in Rhode Island, first in prison, then as a member of DARE.  When I began inquiring about the precise rules regarding criminal convictions being a barrier to entry, and a cause for eviction, I got only a few vague answers.  I even called the Providence Housing Authority, and their attorney merely said they use a section of the federal code as their policy.  This particular section explicitly says that it should "not be a substitute for local policy."
I began my legal research while in New York City last summer.  "Communities, Evictions, and Criminal Convictions" is national in scope, and much of the relevant law is federal.  However, I felt it would be easier to comprehend if focused on a particular city, including a comparison to others.  I moved to New Orleans in 2011 and do not pretend to fully understand the entire socio-political landscape.   To the degree that this report is incomplete, such as detailed data on evictions, I apologize.  It is meant to be a starting point on a complex issue, rather than an ending point.  I expect others to capitalize on this consolidation of material and move forward in their own regions or specialties.
Housing providers will want to take notice of the relevant sections on civil rights law.  The EEOC and HUD have both moved "disparate impact" into the realm of criminal justice, whereby what seems to be a neutral policy is disproportionately impacting people of color.  This is the very definition of the criminal justice system.  Voluntary changes can save housing providers (including corporate developers of mixed income projects) excessive litigation costs and possible damages.
This report would not be possible without the families of convicted people standing up and resisting discrimination.  Members of Direct Action for Rights & Equality have been essential to me understanding this problem, one where my family would not be eligible for public housing in Providence, despite my last criminal activity being over 20 years ago.
Grassroots organizations in New Orleans have moved the Housing Authority of New Orleans to hold a public hearing where the included Model Policy was presented as an alternative, and they have since contracted the Vera Institute to draft a new policy.
As Dorsey Nunn, of the Formerly Incarcerated & Convicted People's Movement, writes in the Forward:
This report represents more than just a legal analysis about the struggles in low-income communities.  For many of us, this is about our homes.  This is about where we try to cook our meals, relax, and raise our families.  The stakes are high, inciting passion.  Yet we do not let this passion blind us; instead, we use it to motivate ourselves.  We encourage everyone, regardless of background or circumstance, to join us in taking action upon a most critical issue.

We are fortunate to have strong individuals and organizations working towards change in New Orleans.  The city is "ground zero" for incarceration, and a true tragedy considering the rich history and difficult geographic location at the mouth of the Mississippi.   What we have created is a national model, drawing from the expertise on the ground and in the legal community, to help our people step up and out of the carnage created by two generations of the "War on Drugs."

The FICPM looks forward to building partnerships with people working on this and other issues across the nation.

Sincerely,

Dorsey Nunn

Formerly Incarcerated & Convicted People's Movement
Download "Communities, Evictions, and Criminal Convictions" HERE.