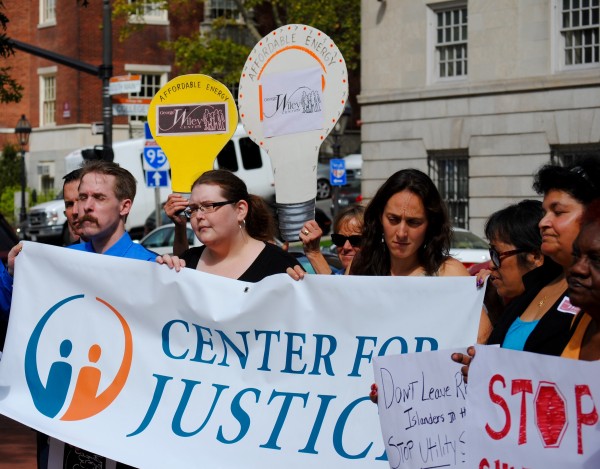 National Grid agreed to restore power to about two dozen homes this afternoon pending the resolution of a lawsuit.
The Rhode Island Center for Justice filed a class action lawsuit against National Grid and the RI Division of Public Utilities and Carriers on behalf of families that had their utilities terminated even though a member of the household suffered from severe or chronic medical conditions. Under state law these families should have been protected from shut-offs pending regulatory review by the RI Public Utilities Commission.
Though the case is not yet over, this move does offer preliminary relief to all families whose circumstances would be covered under the present lawsuit, which the Center for Justice estimates may be as many as 80 homes.
Camilo Viveiros, Executive Director of the George Wiley Center, which collaborated with the Center for Justice on the Lifeline Project, issued the following statement:
Today's action is important for the families who will have their utilities restored before the holidays and the judgment is a crucial step toward assuring that Rhode Islander's utility rights and protections are recognized and respected.

'Most Rhode Islanders would be shocked to find that people with serious medical conditions are routinely denied their medical protections stated in the Termination Rules when our taxpayer funded Rhode Island Division of Public Utilities grants National Grid permission to terminate thousands of households with seriously ill people, despite doctors' documentation of life-threatening medical conditions.

'The George Wiley Center is glad that it is increasingly coming to light the ways that the rights of utility consumers with medical conditions have been disregarded and disrespected.

'Today's action was an important step in recognizing how the RI Division of Public Utilities should be working to utilize the protections for vulnerable families rather than undermining protections in favor of the financial interests of the utility company.

'The George Wiley Center will continue our efforts with the Rhode Island Center for Justice to expose the continued and larger patterns of utility injustice, as we organize to establish affordable utilities that would allow for access to important and essential utility services."
[Note: The story originally said that a judge had ordered the restoration of power. In fact, National Grid agreed to restore power without a judge compelling the action]
National Grid restores power to two dozen homes

,