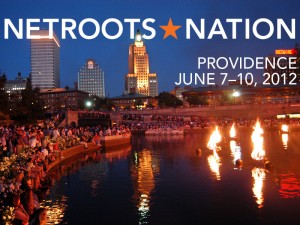 Netroots Nation, the annual convention for progressive bloggers that is being held in Providence from June 7 and 10, released its much anticipated agenda of panels today, and RI Future, along with many other locals, will be represented.
Either me or previous publisher Brian Hull (we're still trying to figure out who with the Netroots folks) will participate in a discussion on Revitalizing State and Local Blogging.
Since the historic 2006 and 2008 election cycles, state and local blogospheres all around the country have been fragmenting and decaying to the detriment of the progressive movement. This panel will examine the challenges that surviving blogs face; discuss short-term projects that would help state and local bloggers strengthen their audience, reach and income through the rest of the 2012 cycle; and explore what can be done to sustain the Netroots community at the state and regional level long-term.
Abel Collins, of the RI Sierra Club and also an RIFuture contributor will participate in a panel called Saving Public Transportation: A Matter of Social Justice.
In Rhode Island, public transit service is under perennial threat of service cuts and fare increases due to a flawed funding mechanism, the gas tax. Transit systems around the country—from Oakland to Detroit—face similar service cuts at a time when public transportation is more necessary than ever for both our economic and environmental sustainability. This panel will relate how workers, riders and even transit systems are forming coalitions in the fight to save and expand public transportation. We'll explore the campaign in Rhode Island to Save RIPTA, the Rhode Island Public Transit Authority, and discuss how the successes of this local campaign can be translated to other communities nationwide.
Another panel discussion called Pushing Back: How Labor Groups are Fighting Concessions and Workplace Abuses in the Down Economy will feature an employee of the local Westin Hotel that was involved in an intense labor dispute last year.
Other panels include When Democrats Aren't Democrats: The Story of Rhode Island.
How did voter ID laws pass in a blue state? How many RI state legislators are anti-choice? What's the deal with civil unions? Why does everyone keep saying tax breaks for the wealthy create jobs? As Democrats move to the right and progressives are fighting tooth and nail to get anything done, it couldn't be more important to answer these questions. Hear the story of Rhode Island and how fights for tax justice, protecting a women's right to choose, equal rights for our LGBTQI neighbors and access to the polls played out. Veteran advocates and organizers will talk about what works and what doesn't when having a D next to a name means nothing.
For a complete list of panels to be held at the 7th annual Netroots Nation conference in Providence on June 9 and 10, click here.