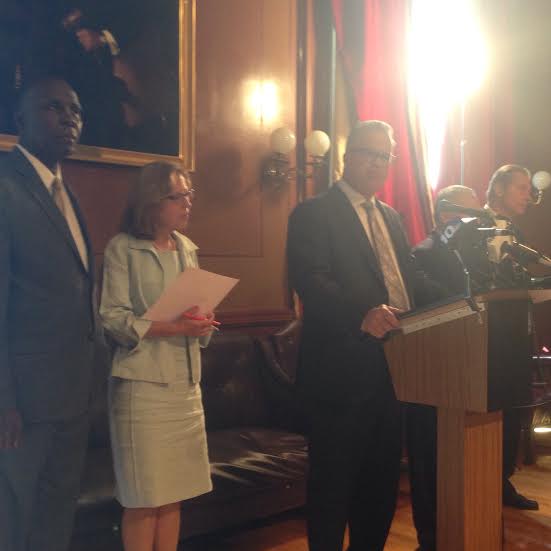 General Assembly leaders say they are eliminating the controversial community service grants that former Rep. Ray Gallison used to fund an organization he worked for, but they are leaving in place the equally-controversial though often smaller legislative grants that lawmakers give to local groups.
House Speaker Nick Mattiello and Senate President Teresa Paiva Weed said they are pleased to add new layers of transparency to the community service grants and are satisfied with the existing layers of transparency with the legislative grants.
Paiva Weed said one reason not to address the smaller legislative grants is they were overhauled under the direction of former state Senator Michael Lenihan. Mattiello said another reason is legislative grants are often smaller.
But not always.
The speaker gave two legislative grants to the Cranston Police Department for $46,000 and another $25,000 grant to "Justice Assistance" in Cranston, according to this list of legislative grants.  Mattiello said Cranston didn't receive the additional funding because it is in any greater need than any other police department in the state, but rather because it was the only department to ask for a grant.
"I have never rejected an application" for a legislative grant, Mattiello said. "Everyone says the speaker utilizes them to give out and curry favor. It's not what we use them, it's not my practice."
Other than the legislative grant to the Cranston police, most of these grants are much smaller. There are some $2 million worth of legislative grants given out each year. There were $11 million worth in community service grants and legislative leaders said that total will be cut by several million. The remaining grant money, they said, will be given to state departments to award in a competitive bidding process to organizations that will be subject to state audit.
Critics of the grant programs say legislators use them to curry favor in their districts. The grant programs became more politically toxic when former Rep. Ray Gallison, who recently resigned amid a a state and federal investigation of him, was found to ask for a community service grant for an organization, whose work is unclear, that employs him.
Legislative leaders nix community grants, keep legislative grants

,