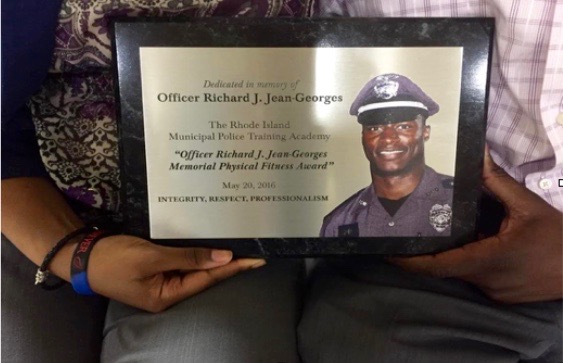 It is difficult to find words that will adequately express the shock and sympathy over the tragic loss of patrolman Richard Jean-Georges off the coast of Costa Rica on June 6, 2015. Losing my good friend Jean-Georges, was the hardest moment I had to go through in the past year.
As a son of immigrants from Haiti, I felt honored to know this family. His family members are still experiencing trauma and need psychological assistance and social interventions to help them recover. The pain of losing someone who dedicated his life to protecting and serving his community shall never be forgotten.
I remember on the Saturday before his untimely death, we attended services at the Ephese Church, on Eddy Street in south Providence. He was as young, vibrant and full of energy and enthusiasm as ever. I recall how passionate he was when talking about his intention to support and mentor community youth. We chatted in detail and parted ways. A few days later, I received the devastating news that he was missing off the coast of Costa Rica.
Officer Jean-Georges was not only a good friend but also a fellow community leader whose aspirations have been similar to mine from childhood. I remember a few years ago we took the state police test together. I changed course but he proceeded to later join the Bristol Police Department. I was very proud of him. Since then, in my capacity as the founder of the New Bridges for Haitian Success, my conversations with him have always centered around uplifting our community. He was immensely concerned about the need for role models for our youth and always discussed ways to improve truancy, trouble with the law, and youth engagement. In short, he was a great community leader and a role model who many looked up to.
I am glad that the memory of this great officer, Jean-Georges is being kept alive. On Monday 20, 2016 it was with utmost pleasure to hear the great news that the Rhode Island Municipal Police Training Academy launched the "Officer Richard J. Jean-Georges Memorial Physical Fitness Award". I know that no words I can offer have the power to ease the loss, including the toughest, roughest, hardest moments that his family experience.
We celebrate this great human being whose memory and hard work continue to impact our community. You will be missed forever and I pray that you rest in peace in the name of holy Jesus.
Adieu my friend!
Remembering Bristol Police Officer Richard Jean-Georges on the 1st anniversary his death

,