Governor Gina Raimondo was the introductory speaker Tuesday morning at the AWEA Offshore WindPower 2016 conference in Warwick. Raimondo spoke to the conference attendees, mostly representatives of various wind power companies and allied industries, with some federal and state government employees on hand as well. Raimondo was keen on selling Rhode Island as a place for the growth and development of renewable energy such as solar and wind."
"I am an advocate for the environment," said Raimondo, "and I usually begin my comments in audiences such as these talking about the reality of climate change… Climate change is real, caused by human activity and not going to go away on it's own. It's up to us, policy makers, business leaders, entrepreneurs to meet the challenge of climate change."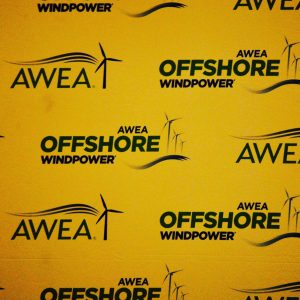 Comparing the problem of climate change to her work on pension reform, Raimondo said, "Climate change isn't that different from big, thorny fiscal issues, which is to say it's not going to go away unless we take action and it's only going to get harder the longer we wait. So we have to meet the challenges of climate change with urgency and a seriousness of purpose, in the same way we would with other fiscal challenges."
The governor then made her pitch for creating jobs in the state. "As Governor of Rhode Island I want my state to be a leader. Number one, it's the right thing to do, number two, I want our state to be known as the state that solves problems and meets challenges. But number three, the silver lining in meeting the challenge of climate change is that we can create jobs.
"The good news here is that we can create jobs in solar, in wind, in energy efficiency, and those are the kind of jobs that I want to have here in Rhode Island.
"My message is that all the things about Rhode Island that enabled us to be first, with Deepwater Wind, are the reason you ought to think about doing business in Rhode Island," said Raimondo, before making a very questionable claim that, "we have no fossil fuel industry here in Rhode Island. We're not 'as attached' to [the] 'good old' fossil fuel industry. That's a big deal. That means we have a culture embracing of this industry [wind energy]."
The governor's press secretary, David Ortiz, later clarified what Governor Raimondo meant by this statement, saying that, "her point was that the state has no fossil fuel deposits and does not extract natural gas, crude oil or coal."
Though this is true, it does not follow that Rhode Island has a "culture" embracing alternative energy. The fossil fuel industry has a giant economic, political and environmental presence in the state.
Putting aside the proposed Burrillville power plant, or any other of the proposed LNG infrastructure expansions in various stages of being approved, "Rhode Island's Port of Providence," according to the US Energy Information Administration (USEIA), "is a key regional transportation and heating fuel products hub" and "natural gas fueled 95 percent of Rhode Island's net electricity generation in 2015."
The USEIA goes on to say that Rhode Island "does not produce or refine petroleum," as Raimondo's office clarified, but, "Almost all of the transportation and heating fuel products consumed in Rhode Island, eastern Connecticut, and parts of Massachusetts are supplied via marine shipments through the Port of Providence. The port area has petroleum storage tanks, and a small-capacity petroleum product pipeline runs from the port to central Massachusetts."
Rhode Island is heavily dependent on LNG imports. "Electric power generators and the residential sector are Rhode Island's largest natural gas consumers. More than half of the natural gas consumed in the state goes to the electric power sector and almost all in-state electricity generation is fueled with natural gas," says the USEIA, "Historically, natural gas has arrived in Rhode Island from producing areas in Canada and from the U.S. Gulf Coast and Mid-Continent regions, but increasing amounts of natural gas are coming from Appalachian Shales, particularly the Marcellus Shale of Pennsylvania." This makes Rhode Island heavily dependent on fracked gas for its power generation.
And finally, as far as the dirtiest fossil fuel, coal, goes, "Providence is one of the leading coal import centers in the northeast, receiving one-tenth of the imported coal delivered to eastern customs districts in 2015. The state is part of the six-state Independent System Operator-New England (ISO-NE) regional grid. And, although Rhode Island and Vermont are the only two states in the nation with no coal-fired electricity generation, the ISO-NE grid remains dependent on coal-fired facilities during periods of peak electricity demand."
So, although Rhode Island has no industry producing or refining fossil fuels, Rhode Island is heavily burdened and intertwined with the fossil fuel industry. We are soaking in fossil fuels as an importer and exporter. We fund the fracking of America with our energy choices, and even as we are economically and politically dictated to by companies like National Grid, Spectra, Invenergy and Motiva (a subsidiary of Saudi Aramco and Shell Oil Company, we bear the environmental scars of their abuse of our habitats and our health.
This is the fossil fuel industry in Rhode Island.
It is massive and it is killing us.
---
Also speaking at the AWEA Offshore WindPower 2016 conference was Deepwater Wind's Jeff Grybowski, Senator Sheldon Whitehouse and Representative David Cicilline.