Rhode Island's cultural diversity is one of our great assets, but our communities often experience different opportunities to engage and enjoy. If we want our state to be more equitable, we require courageous leadership and intentional investments in racial and economic equity and access.
As organizations committed to racial justice, we feel the issue of race has been missing from the discussion about Kennedy Plaza. We all want to see vibrant community commons that support our economic and community development. But we recognize that strategies like increased policing will continue to disadvantage the poor, especially people of color, and siphon dollars away from social safety net programs that uplift those most marginalized.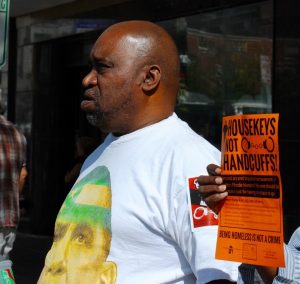 New England communities were built with public "commons," but despite their name these public spaces have always excluded the most disenfranchised: the indigenous people whose land was stolen, the enslaved Africans who quite literally built our communities, and those who did not fit society's image of proper decorum. This continues today, with increase policing and criminalization of black and brown bodies, those exhibiting impact of addiction or mental illness, and the poor and homeless.
As our allies who are advocating for the homeless pointed out in their excellent "Reclaiming our Public Spaces" report, we cannot simply sweep away the poverty that many don't want to see. Poverty and homelessness have disproportionate impact on communities of color, in large part because of public policies that exclude particular racial and ethnic groups from the supports that help build wealth and economic stability. Public policies fit together like bricks to shape our society, and our vision for racial justice requires some shifts in thinking. More people with criminal records, out of our workforce and warehoused at public cost, doesn't help us build the society we envision.
Rather than seeking to invest our resources in short-sighted efforts to remove people we have deemed "undesirable," let's make real investments in the type of community supports and assets that eliminate the need for panhandling, support mental health and addiction recovery, and provide living wage jobs for everyone, including those with criminal records. Let's engage our business community support in increased wages, publicly funded detox and recovery support, development of affordable housing, and compliance with First Source and Ban the Box laws. Let's provide meaningful, well-paying work opportunities for adults with moderate education, and support public access to skilled training and higher education for our youth. Let's recognize that amenities like public restrooms, drinking fountains, increased seating, and charging stations will support many types of users. And let's bring love and compassion to the struggle of all those in our community, even those whose circumstances or behavior might make us uncomfortable.
Mike Araujo, Executive Director, Rhode Island Jobs with Justice
James Vincent, President, NAACP Providence Branch
Chanda Womack, President, Board of Directors, Cambodian Society of Rhode Island
On behalf of the Racial Justice Coalition.
Racial and economic equity important to Kennedy Plaza debate

,