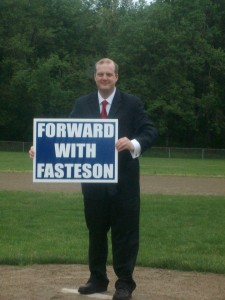 David Fasteson is mounting a challenge against Stephen Archambault who as the State Senator from District 22, represents parts of Smithfield, North Providence and Johnston. Archambault, though a Democrat, sits to the right on many progressive political positions. He has been rated at 29% by the ACLU and was rated 83% by the NRA, earning the National Rifle Association's endorsement. In seeking the nomination of the Democratic party, Fasteson plans to run as a more progressive candidate.
It was while canvassing (going door-to-door in search of votes and support) in Smithfield on Sunday evening that Fasteson was approached by a police officer who told him that canvassing requires a permit under Smithfield law. A look at the law reveals that the permit is only applicable to canvassing for sales, not for religious or political reasons.
The Supreme Court has consistently ruled that onerous restrictions on religious and political canvassing are unconstitutional under the First and Fourteenth Amendments. Relevant cases include Martin v. City of Struthers, Hynes v. Mayor of Oradell, Village of Schaumburg v. Citizens for a Better Environment, and Meyer v. Grant.
In a phone call with the Smithfield Town Clerk Monday morning Fasteson confirmed that he would need a permit if he were going door-to-door seeking to sell some good or service, but politicians do not need these.
Most likely this is just a minor mistake by an overzealous police officer, perhaps responding to a citizen's complaint. Even so, it would behoove police officers to be mindful of the protections guaranteed our citizenry under the Constitution of the United States.
As of our last communication David Fasteson plans to continue canvassing, without a permit.
No permit required: political canvassing is a Constitutional right

,