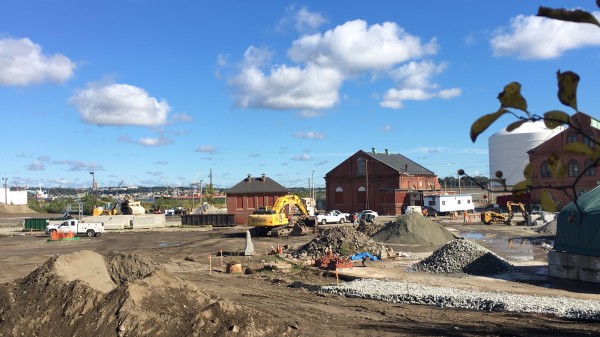 The No LNG in PVD coalition is demanding that National Grid immediately halt construction and excavation work at 642 Allens Ave, the site of the proposed liquefaction facility in Fields Point. The proposed facility, which is opposed by Mayor Jorge Elorza and nine state legislators, is currently being reviewed by the Federal Energy Regulatory Commission (FERC). National Grid has requested that FERC not hold any public hearings or grant fast tracked approval for the project. No LNG in PVD, a coalition of residents, organizations, and elected officials opposed to National Grid's LNG facility, calls on the RI Department of Environmental Management (RIDEM) to revoke a recently granted permit which authorized soil excavation at the site, which is contaminated with numerous toxins hazardous to human health.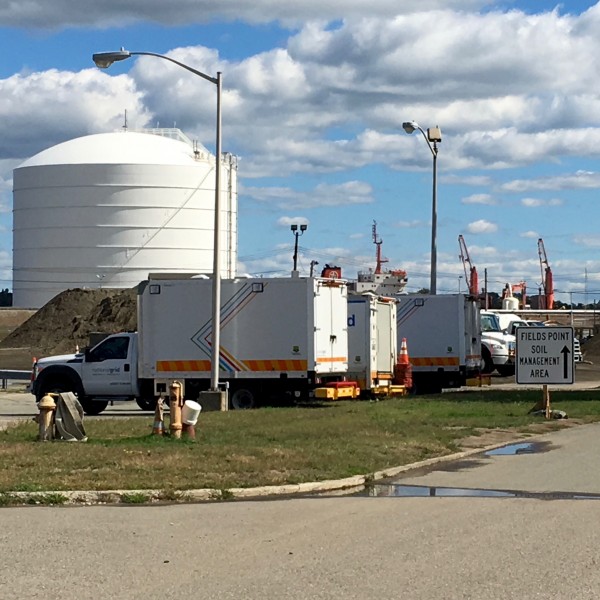 A group of concerned Providence community members submitted a petition to RIDEM on August 31st which requested that RIDEM revoke the soil management permit until concerns are addressed and a Public Involvement Plan (PIP) is put in place. RIDEM site remediation regulations, amended in 2011, require a PIP – a formal process for public participation and community oversight of the cleanup plan for activities that occur on contaminated sites. RIDEM formally initiated the PIP on September 6th, notifying National Grid "to initiate the process of developing an approvable PIP associated with the planned environmental cleanup of the Providence Gas Company site, and any other site redevelopment activities requiring remedial actions that fall under the jurisdiction of the Remediation Regulations."
National Grid was required to respond to RIDEM within seven days with proposed plans and a schedule for developing a PIP with the community, writes No LNG in PVD, but says National Grid has ignored this requirement. In addition to violating this regulatory request, says No LNG in PVD, National Grid has begun excavating soil in a large portion of the site along Allens Ave and Terminal Road. Community members have observed uncovered piles of dirt with visible airborne dust.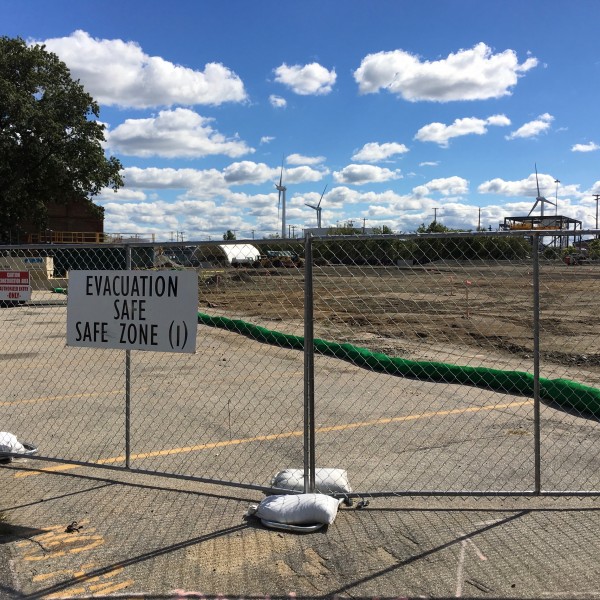 The project's location, 642 Allens Ave, has a long history of industrial contamination dating back to the earliest days of the gas industry. Providence Gas Company operated a "manufactured gas plant" from 1910 to 1954 which resulted in the release of many toxic substances which polluted the soil and groundwater. The site has also been host to an ammonia plant, a toluene facility, a propane works, and most recently an LNG storage facility. Numerous substances which pose a risk to public health, safety, and the environment have been recorded at the site, including polycyclic aromatic hydrocarbons (PAHs), total petroleum hydrocarbons (TPH), phenolic compounds, volatile organic compounds (VOCs) including benzene and naphthalene, polychlorinated biphenyls (PCBs), ferri­ and ferro cyanide compounds, asbestos, and metals including lead and arsenic. Many locations in the site contain multiple hazardous substances at levels that far exceed allowed standards, and while some specific areas have been remediated since 1994, the majority of the land has not been remediated.
The petition submitted to to RIDEM articulated a number of community concerns about construction at the LNG site exposing workers or community members to toxins.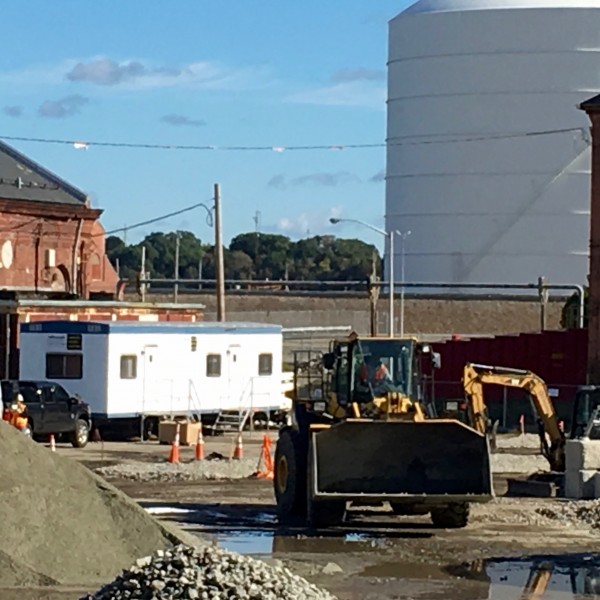 "This is our community, people live here and kids go to school here, why does National Grid think it's okay to put our lives and our health at risk? It's our legal right to be involved in these decisions," said Gina Rodríguez, a community resident and leader in the No LNG in PVD coalition. Monica Huertas, another coalition leader said, "It's outrageous that there's a known toxic site this close to my house, and we can go down Allens Ave and see clouds of dust blowing off from the piles that National Grid is digging up. The whole point of this Public Involvement Plan law is to address things like that, but National Grid is just ignoring our concerns and DEM isn't doing anything to stop them."
A growing number of elected officials are working with the No LNG in PVD coalition and have declared opposition to National Grid's unnecessary, expensive, and dangerous LNG proposal. The coalition denounces National Grid's rush to begin work at the site before any public oversight is put in place. "This is exactly what RIDEM's site remediation regulations are for," said Representative Joseph Almeida. "In cases like this, where a project could release extremely dangerous contaminants, it is vital that the affected community have a role in overseeing remediation activities. Members of my district are already overburdened by environmental and health hazards. It is vital that DEM stop National Grid from kicking up a new load of previously buried poisons and toxics without giving this community any say."
David Graves, spokesperson for National Grid, responded. "Construction work now underway on the property is not related to the liquefaction project. All of the work has been properly permitted. As part of our normal procedures, the earth excavated from the site is being covered.
"There are or will soon be two projects underway in the immediate area. One is construction of an access road to accommodate equipment that will come on site to make improvements to containment dyke wall that surrounds the LNG tank. The other is to cap approximately five acres of land at 642 Allens Ave that is part of a remediation project that was started several years ago. Both have been approved by DEM."
No LNG in PVD coalition member Aaron Jaehnig responded to Graves' statement. "The petition to DEM for a Public Involvement Plan related to that property clearly requested a halt to any construction or remediation projects until a Plan was in place. DEM's request to National Grid, for that plan did not alter our request or sepcify that prior permits were exempt. The PIP process exists so the concerned residents, potentially effected by the disruption of toxic materials, are legally granted oversight to such projects. Its great that that National Grid believes they are above participation in this process, it just confirms our suspicions that their actions do not take the public's well being into consideration. They have already shown a blatant disregard for the community by ignoring DEM's request for response to the PIP order within seven days. All construction and remediation activity should be halted immediately until that process is completed."
National Grid has responded a second time, denying some of the allegations made by the N o LNG in PVD coalition: "The work underway at our property at 642 Allens Ave. property, which has been properly permitted, is unrelated to the liquefaction project. One element of the work is environmental remediation. It is enhancing public safety not endangering it as claimed by one group. Also, at no time have we requested to FERC that they not hold public hearings and we responded to DEM on the matter of the Public Involvement Plan (which is unrelated to the current work on the property) within the required time. Every project we undertake is planned and executed under rigid safety and environmental standards and the work currently underway is no exception."
Updated: No LNG in PVD demands National Grid halt construction at Fields Point

,