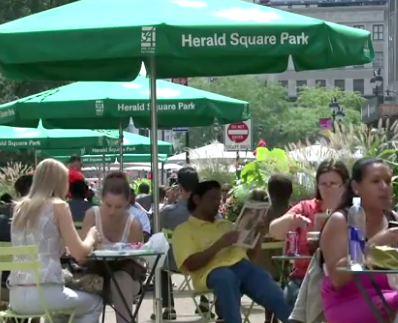 Rumors have been floating that former Mayor of New York City, Michael Bloomberg, might run for president. Bloomberg has presented his potential run as a middle-ground between rightwing candidates like Donald Trump and progressive leaders like Bernie Sanders. Whatever critiques there might be of Bloomberg, the fact is that he's led on some issues. Bernie Sanders should work hard to undermine Bloomberg's base of support on a key issue where the Bloomberg administration led: transportation.
Michael Bloomberg was a big proponent of stop-and-frisk policies, which should be a concern for any progressive voter. Stop-and-frisk did recover caches of weapons, perhaps preventing some crimes, but only by harassing large numbers of people of color with an indiscriminate dragnet. The vast majority of people stopped-and-frisked were found to have committed no crime whatsoever, and federal courts found that the policy systematically violated the rights of people of color. Bloomberg's candidacy would certainly be considerably better than any of the Republican candidates, but in an election year when voters have the ability to choose a candidate like Bernie Sanders, it shouldn't be hard for progressives to make the choice: Sanders has led on issues of mass-imprisonment, ending the drug war, and restoring respect for people of color in a way that few American candidates, and no mainstream American candidate, ever has. Alongside Bloomberg's iffy positions on civil rights stand some genuine achievements in transportation and land use. Bloomberg's New York became a leader on environmental issues related to transportation, and the Sanders' campaign needs to sharpen its messaging on this subject in order to undermine that leg of support.
A signature advantage for Bloomberg is that his administration smartly approached transportation policy to augment environmental and social benefits for New Yorkers. This Streetfilms video shows the almost magical transformation of many New York intersections under the tutelage of Janette Sadik-Kahn and Mayor Michael Bloomberg. Even for someone like me who "Feels the Bern", and who doesn't fully trust Michael Bloomberg on a range of other issues, it's hard to not be impressed:
Sanders' campaign has called for infrastructure investment as a major plank of his get-people-back-to-work message. I have disagreements with Sanders' approach. I think that transportation funding should come from user fees. None of the candidates–Sanders included–has taken this position. But even as Sanders approaches the funding mechanisms differently than most urbanist voters would like, he can still draw from his past experience and speak to the need to economize on what the country spends on out of that funding.
The United States spends more money on expansion of its road system than on maintenance, and despite some hopeful examples to the contrary, has often maintained design mistakes like urban highways into their second lifecycle, often at the behest of corporate giants like Microsoft and against the wishes of local voters and small businesses. Sanders, who was a four-term mayor of a leading urbanist place, Burlington Vermont, doesn't need to stretch himself into any pretzels to speak eloquently to why this is a mistake. But at present, Sanders is not doing enough through his campaign to explain how America's infrastructure crisis is one of overspending. His campaign needs to say clearly: #NoNewRoads.
As a mayor, Bernie Sanders 'out-Republicaned Republicans'. He did so by introducing radical concepts like competitive bidding, by successfully lowering property taxes, and by successfully guiding the city towards new development while also protecting the rights of poor people in public housing. Sanders inspires people like me not just with his social-democratic approach to some issues, but his genuine understanding of when free markets work well. Transportation is an opportunity for Sanders to bring that cost-saving approach into focus.
Sanders wants a new single-payer healthcare system, but has also spoken eloquently to the fact that Americans spend more on healthcare than any other industrialized nation. Just as we waste money on healthcare procedures that bring poor results, we also are wasting precious resources on transportation boondoggles that do not add up to longterm economic growth. It's time for the Sanders campaign to speak more forthrightly on this. In the second Democratic debate, Sanders again stuck to this spending issue:
…[W]hy do we remain the only major country on earth that does not guarantee health care to all people as a right? Why do we continue to get ripped off by the drug companies who can charge us any prices they want? Why is it that we are spending per capita far, far more than Canada, which is 100 miles away from my door, that guarantees health care to all people?

It will not happen tomorrow. But when millions of people stand up and are prepared to take on the insurance companies and the drug companies, it will happen, and I will lead that effort.

Medicare for all, single-payer system is the way we should go.
On imprisonment, the focus on fiscal conservatism has been mixed into Sanders boldly progressive message. From the second Democratic debate:
We're spending $80 billion locking people up disproportionately, Latino and African American. We need very clearly major, major reform in a broken criminal justice system from top to bottom. And that means when police officers out in a community do illegal activity, kill people who are unarmed, who should not be killed, they must be held accountable. It means that we end minimum sentencing for those people (UNINTEL). And it means that we take marijuana out of the federal law as a crime and give space for freedom to go forward with legalizing marijuana.
Sanders has even brought his hawk-eyed approach to spending to military waste. From the second debate, again:
This nation is the most powerful military in the world. We're spending over $600 billion a year on the military. And yet significantly less than 10% of that money is used to be fighting international terrorism.

We are spending hundreds of billions of dollars (UNINTEL), 5,000 nuclear weapons. I think we need major reform in the military making it more cost effective but also focusing on the real crisis that faces us. The Cold War is over and our focus has got to be on intelligence, increased manpower, fighting international terrorism.
A "no new roads" approach, sometimes called a "fix-it first" approach, would also be surprisingly within the mainstream. In a recent interview, Urban Cincy blog author Randy Simes points out that even fairly conservative and car-oriented DOTs like Ohio's ODOT are looking to "fix it first" for financial reasons. Part of what worries transportation advocates about Bernie Sanders' messaging on transportation funding is that this fix-it-first way of doing things might evaporate at the state level if more money became available. Sanders should make it clear to the transportation community that his focus on transportation funding does not mean a return to business-as-usual for road expansions, and that DOTs still need to start prioritizing and limiting their spending to bring the U.S. back on track.
Talking about the true roots of America's transportation crisis–overspending on bad projects–should hone close to an attitude about public finance that Bernie Sanders has already embraced his entire life. It will clearly energize existing, young, liberal voters, while also reaching out to moderates who are concerned about costs. It takes away the false choice of progressive vs. practical, and puts them in one candidate together. Supporting the #NoNewRoads campaign will also bring Sanders close to a group of people the Clinton campaign has been attempting to separate him from: Obama lovers. Sanders has supported many of the positive achievements of the Obama era while also criticizing the president from the left, but on this issue he would be in line with our current president: President Obama invited Strong Towns, the organization that coined #NoNewRoads, to the White House to speak on rural development issues. Sanders can demonstrate that he's able to work with fiscal conservatives, champion climate change action, and shore up support from supporters of President Obama, all at once. Win-win-win.
Donald Trump may think that we can slap a billion dollars on anything and make it better, but Bernie Sanders has shown on a range of issues that he's much smarter. Sanders is a "man of the people" says one article: he walks to work and takes the middle seat on planes. The Sanders campaign should speak smartly on transportation so as to draw on the approach he's taken in the past. Let's #FeelTheBern for #NoNewRoads.
~~~~
#NoNewRoads: How Bernie Sanders Should Preempt Michael Bloomberg

,