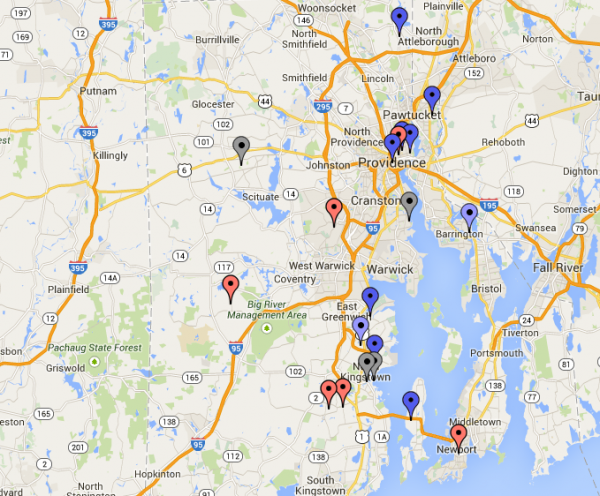 North Kingstown is the center of Rhode Island's political universe. Or, at the very least, by far the highest number of statewide candidates hail from this suburban town of 26,000 in the West Bay.
Five of the 15 candidates seeking a statewide office this year live in North Kingstown, as do two of the six candidates running for congress. Providence has three residents running for a statewide seat and one seeking reelection to congress. Warwick has a resident running for governor and congress.  Jamestown, Newport, Warwick, Barrington, Cranston, Cumberland, West Greenwich, Pawtucket and Scituate each have a resident on this year's ballot.
The five candidates from North Kingstown, including the office they seek and their party affiliation, are:
Nellie Gorbea, secretary of state, Democrat
Dawson Hodgson, attorney general, Republican
Kate Fletcher, governor, unaffiliated
Bill Gilbert, lt governor, Moderate
Tony Jones, lt governor, unaffiliated
North Kingstown has candidates from all three recognized political parties, with one candidate from each. There are two unaffiliated candidates from North Kingstown and the treasurer's race is the only statewide contest not to include a North Kingstown resident. Two of the four candidates for lt. governor are from North Kingstown.
But that's not to be confused with a 50 percent chance that the next lt. governor will be from North Kingstown. According to the latest WPRI/ProJo poll, only one North Kingstown resident is a favorite to win: Gorbea has a 41 percent to 27 percent advantage over her West Greenwich rival John Carlevale. Hodgson was the only other NK resident to win double digit support in the poll, trailing incumbent Peter Kilmartin 46 percent to 32 percent.
Similarly, 33 percent of the candidates in the three congressional races this year are from North Kingstown, or two of the six. Republicans Mark Zaccaria and Rhue Reis, both from NK, are running against incumbents from Jamestown and Warwick in Senator Jack Reed and Congressman Jim Langevin. Congressman David Cicilline is from Providence and Cormack Lynch is from Newport.