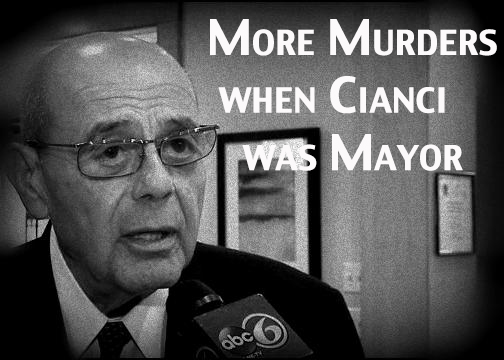 Forget the razzle-dazzle of Buddy Cianci incanting the good old days and the paranoia around Achievement First. Consider the character of the man – read Emma Sloan's harrowing piece – and look at Cianci's most recent term in office (1999-2002). His record simply doesn't justify another term.
Despite a larger police force, the capital city had more murders during Buddy Cianci's last four years in office than the most recent four under Taveras.
From 1999 to 2002, the statistics are stark: 26 murders in 1999, 30 in 2000, 23 in 2001, 23 in 2002. During his 1995-1998 term the numbers of annual murders ranged from 25 to 12. There were 22 murders in 1993 and 21 in 1994.
From 2011 to now, under Mayor Taveras, the homicide rate has varied from 12 in 2011, 17 in 2012, to 14 in 2013. There have been 13 murders this year.
Think about this -even though jobless rates are worse in the city now, even with a smaller force, more transparent, honest police leadership and partnerships have kept murders down. 
According to the San Diego Reporter, just prior to his last term, upon arriving on the scene after a 1998 double-homicide, potentially tied to drug trafficking, Cianci remarked, "Seen one you've seen them all."
Can you imagine Angel Taveras saying that upon arriving at a homicide scene?