Recently we have been contacted by Jessica Stensrud, who is working tirelessly to champion an anti-bullying bill that would create further support for employees being harassed on the job. She has prepared an essay that we share here. To get involved in this issue, contact Ms. Stensrud at jstensrud@alumni.cmu.edu.
When I try to think like most people who haven't experienced workplace bullying or deny that it even exists, I imagine that when they hear "The Healthy Workplace Bill," it can sound sort of naïve or even Pollyanna-ish (if that's even a word). "What? People need a law in place to FORCE them to be NICE? And what is 'nice' anyway? What about competitiveness, aggressive go–getter stuff; all that? Isn't that normal in business? If you ruled that out, what would you have? A bunch of powder puffs trying to get stuff done."
No, what I am talking about is there being a law that prevents deliberate acts of complete and intentional cruelty above and beyond anything to do with work. Often times, employees' time is spent trying to comply with orders that are given, when bullying is taking place, that have nothing whatsoever to do with productivity or the success of the company. It is torture for the sake of torture.
Some people literally cannot seem to help themselves resist abuses of power. Just because they can. Or for deep psychological issues they never came to terms with and never want to. Or because someone else is bullying them from the top.
No one should have to go to work in fear that one of these types of people will be playing a cat and mouse game with them – sometimes for years on end. Companies should want to develop a culture where all peoples' ideas are valued and their work time is honored and respected, not spent redoing a spreadsheet 15 times just because someone feels good torturing them, for instance; sabotaging their work, accusing them falsely of things, writing them up just because they don't like them.
A healthy work culture is a lot more than having a game room. It means not living in fear that you will be called into a private room where you are excoriated verbally and sometimes physically, but you take it because you need that job and jobs are hard to find.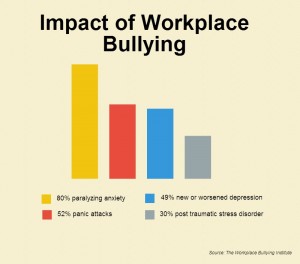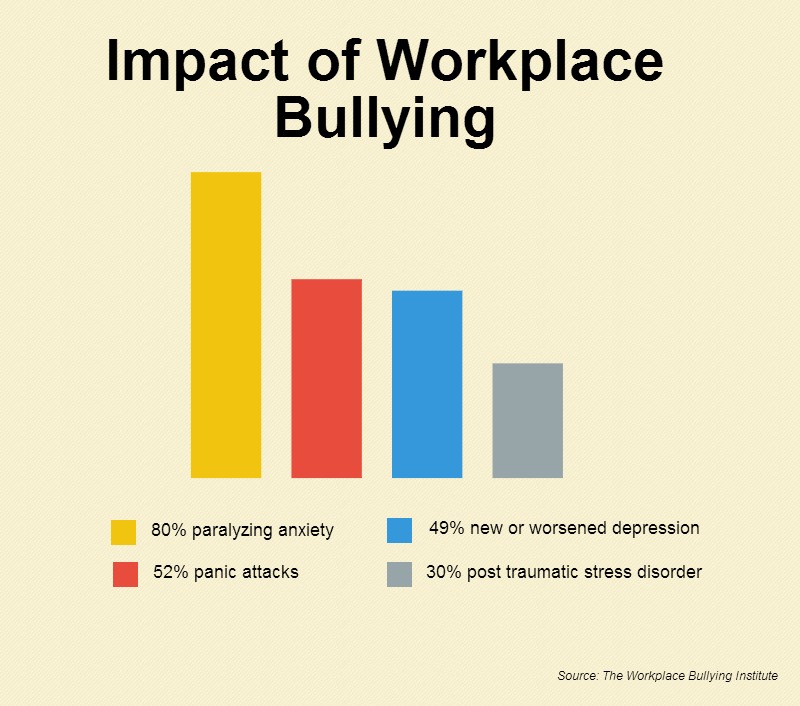 Statistics show that women get bullied more than men, but I personally find that hard to believe. Most men that I know of endure coming-of-age bullying that starts in kindergarten if not earlier that only gets worse as it is spoken of – so it runs deep into the bone. The only way to overcome bullying in that environment is literally to beat that person up! This is MORE bullying!
Girls are learning this as well now. I suppose all bullying of every kind cannot be totally stopped, but many countries are pressing for change in school to identify bullying especially as, if unchecked, it can result in terrible carnage when guns are involved. We also now have cyber bullying where students are tortured to the point of suicide. To my knowledge, no one has done any study to find out if workers who "go postal" were bullied, but I digress.
The point is our society values strong, tough guy managers who yell and scream and "get things done" using any means necessary without studying the impact on employees'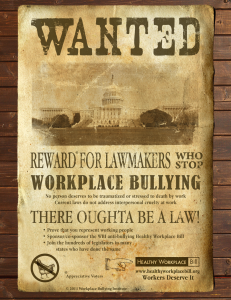 well-being or productivity. Imagine studying what work would be like if there were no yelling, screaming, pushing and shoving.
The Healthy Workplace Bill seeks to give bullied employees legal recourse as there is no law against this type of harassment on the books currently in any state. It also encourages companies to take a look at their work culture and take proactive steps to both avoid lawsuits and create a productive work culture where people are valued for the work they perform because they feel valued, included and motivated by respect.
For more information about the Healthy Workplace Bill, please visit their website here.
Have a look at information from the Workplace Bullying Institute, the creation of Drs. Gary and Ruth Namie, visit their website here.
What I need most are "coalition partners" or those who will demand from their legislators that this bill be introduced and voted into place.
I am working on finding a sponsor to introduce the bill when the RI Legislature reconvenes in January.
Massachusetts is the first state in the country to have the bill so favorably received – they have had three positive legislative hearings and are close to having it voted into law. Many people work and live interchangeably in these two states so it would be wonderful if Rhode Island could also enact this law.